45 Tacky And Tasteless Wedding Decisions So Bad They Were Shared And Shamed Online
By Anni K May 8, 2023
---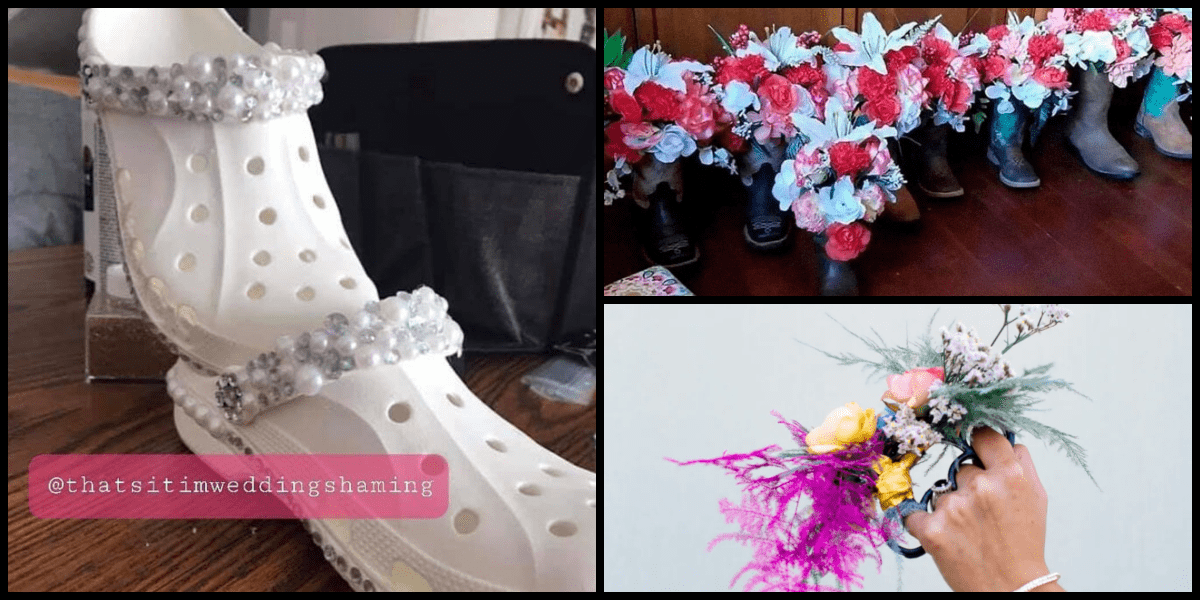 Weddings are one of the most treasured events in anyone's life, especially if you are one-half of the couple that is getting married. You want this day to be special, memorable, and of course, just to your liking. The trouble is when you do decide to implement your decor as you've always dreamed, or maybe scroll a bit too much online in search of 'cool' ideas, then you run into some disasters, knowingly or unknowingly. The Facebook page "That's it I'm Wedding Shaming" is dedicated to sharing disasters caught at weddings, from the guests wearing something embarrassing to tacky decor. There's a bit of everything in this collection and it might just serve as a guide on what not to do at your own wedding in the future.
All images in this article are courtesy of thatsitimweddingshaming on Facebook.
Never Wear White To The Wedding
How is it that, after years and years of wedding celebrations, guests still think it's okay to wear white to a wedding? Seriously, this has to be the number one rule when attending a wedding and yet people still choose to outshine the bride — or at least, try to.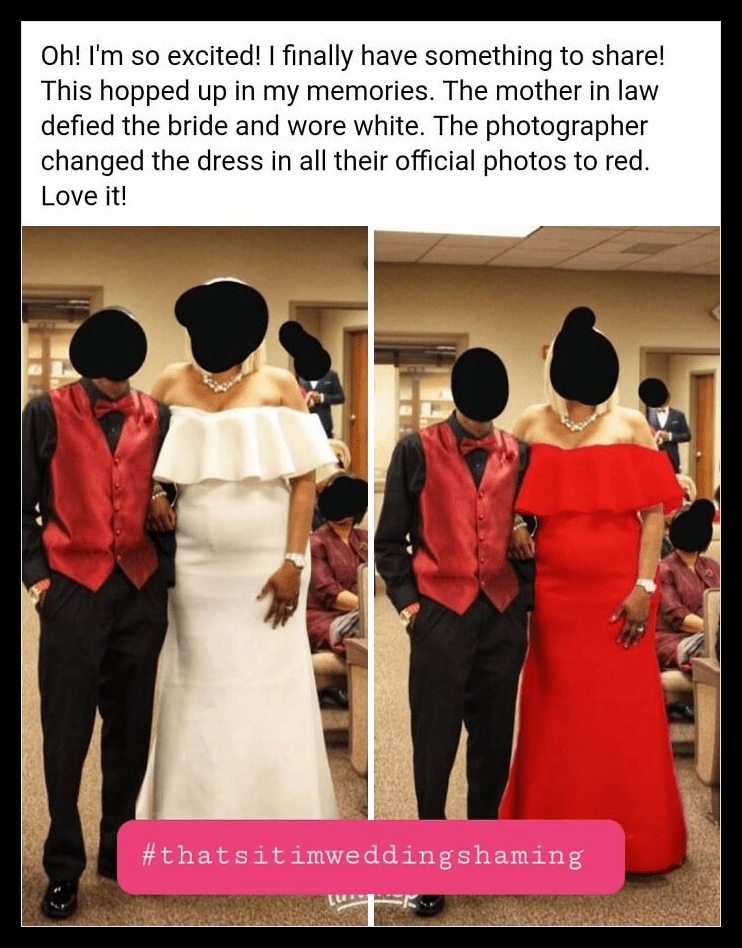 This poor bride had the misfortune that her mother-in-law decided that she would wear white to the wedding. The bride had a genius idea and collaborated with the photographer to photoshop every single photo they took by recoloring her dress to red.
Not A Cinderella Story
Clear shoes are only cute in fairy tales, precisely one to be exact, and that's it. They are super impractical and look weird. You can see just how squished your feet are, and they fog up very easily. No one wants to see your awkward toes in these.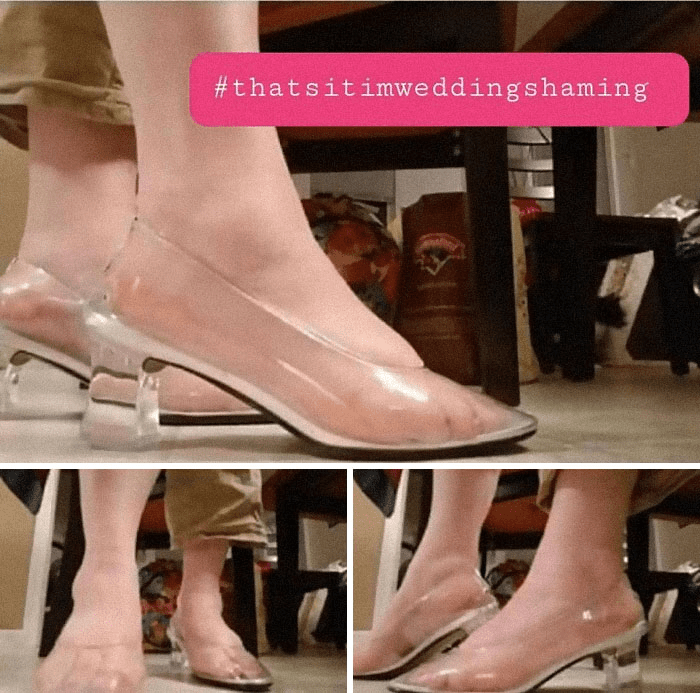 This wedding attendee snapped a photo of someone, hopefully not the bride, wearing some clear shoes. Her toes are not only smushed, but any nail polish she's wearing won't be visible much longer if her feet start sweating and fog up the glass.
Are You Planning On Leaving The Aisle
Some brides and grooms like a bit of a vintage touch at their wedding, and we understand that the old times may appeal to more of the older guests and there is beauty in aged things, but be careful with what you choose to add to the end of the aisle.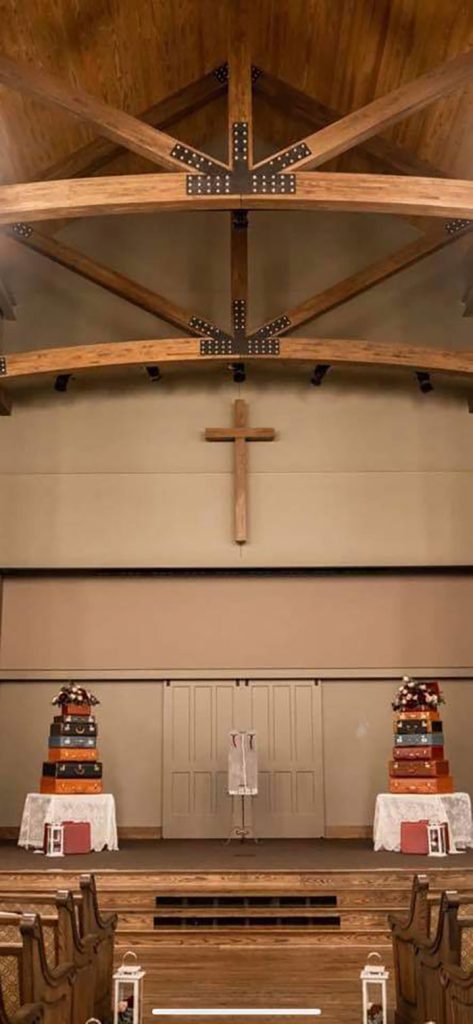 This pair decided it was a splendid idea to add not one but two stacks of old suitcases, right where they ought to stand and give their vows. Here's the problem with that — if either would like to leave, this is a literal way to grab a suitcase and run off.
Double Trouble
Wedding bouquets symbolize fertility and new beginnings, though this tradition has come a long way over the years. With that being said, the older custom has inspired some new modern takes on the classic bouquet, and some of them are questionable at best.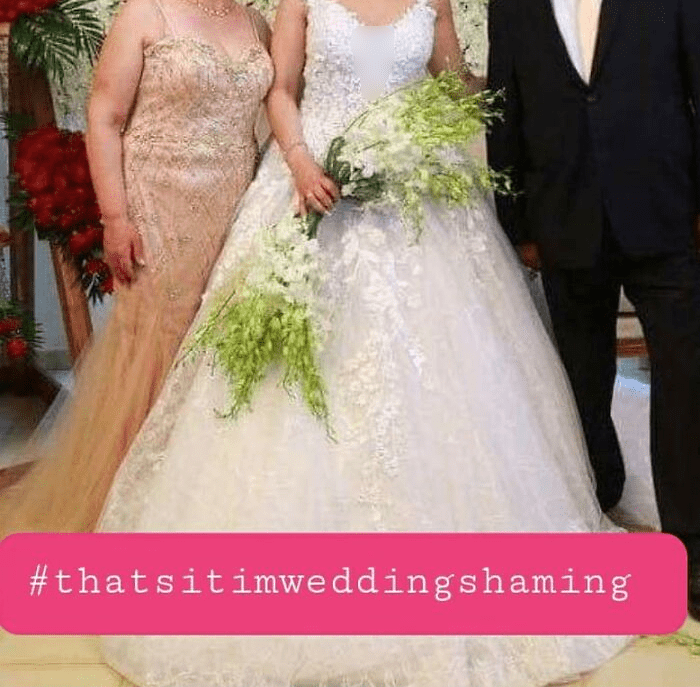 This bride has a literal double bouquet, and whilst it is not so unappealing at first, it seems like they're doubling up on the need for fertility or new beginnings. Maybe it's a loophole? Whatever the reason, it's definitely overkilled.
Clearance Bin Crazy
We love it when brides take to DIYing some of their big day's decor and goodies to save them a few bucks, but you need to draw a line between saving money and creating some seriously tacky items. Maybe scroll the internet a bit more for ideas first?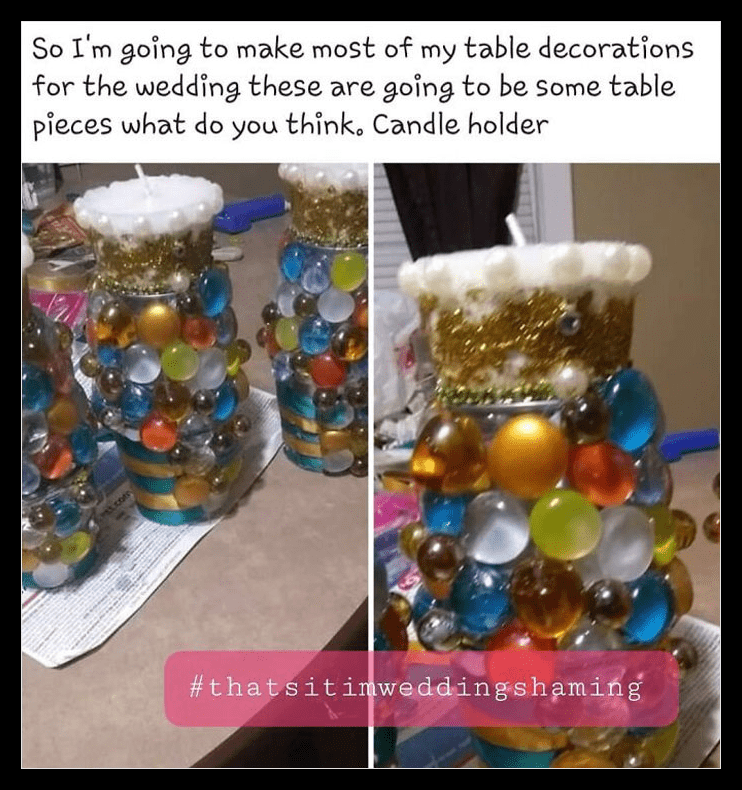 This bride-to-be posted to her social media, proudly showing the DIY candle holders. That's great for their budget but it burns our eyes. It is exceptionally tacky and looks like they have dipped a candle holder in glue and rolled it in the clearance bin.
Gummy Goodness
There has been a trend for cute and unique cake toppers, and this bride and groom definitely wanted in on the fun. The cutest little pair of alligators are seen on the top of this cake; perhaps these hold some significance for the couple. But there's more to unravel here.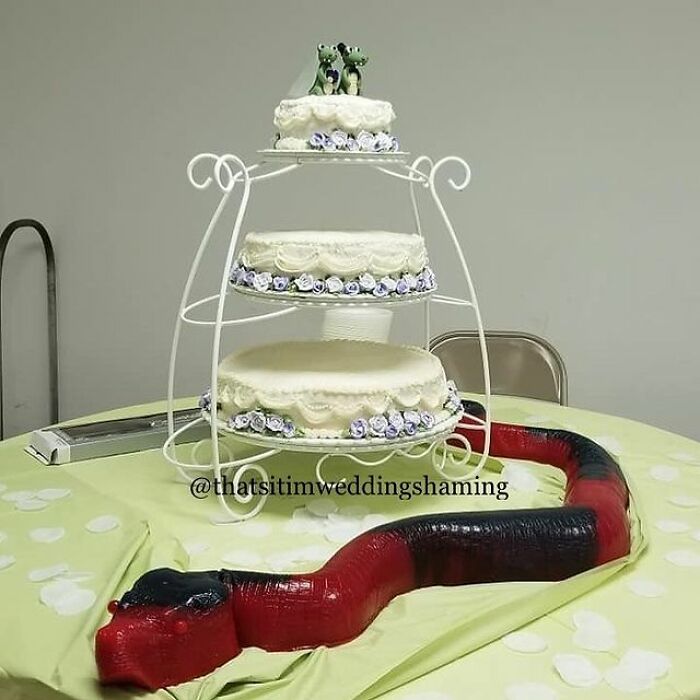 You might just miss it in this image (we're kidding, you can't miss it) but there is a giant gummy snake laid in front of the cake and we'd just like to ask one question: why? It's odd and out of place on your wedding cake table. Leave it to the kiddy area, perhaps.
Is That Not Copyrighted?
When you love something a lot, you might want to include it on your most important day: your wedding day. Whether it's decorations, details on wedding invitations, or songs on the dancefloor, there are plenty of places to pay homage to a favorite theme.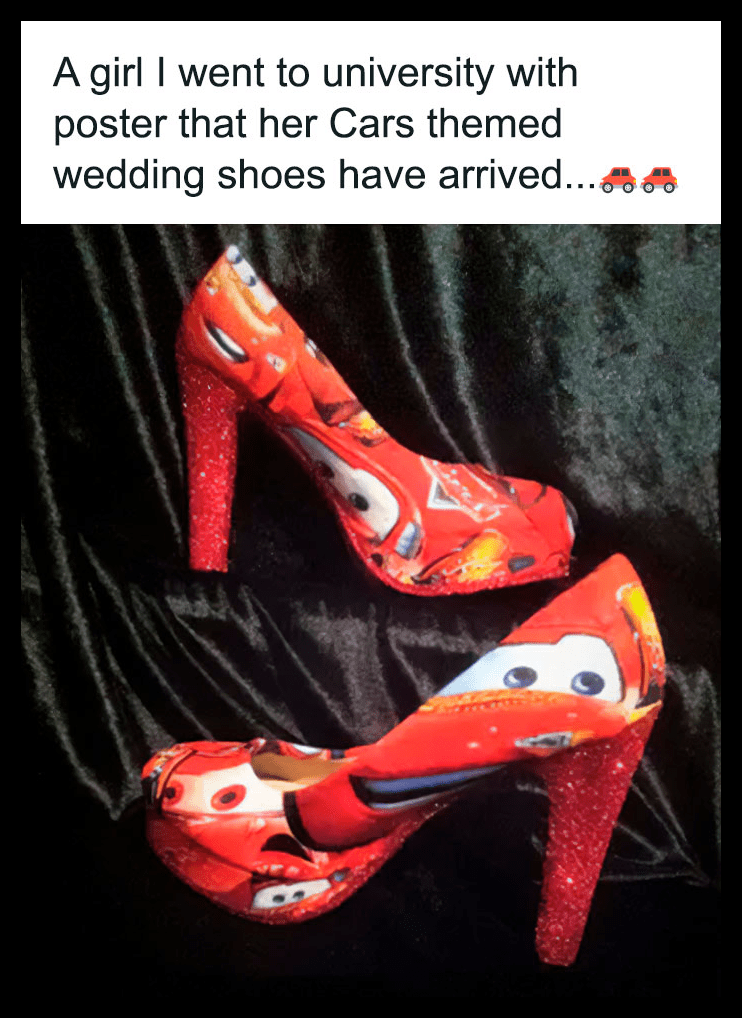 However, the bride's shoes are not where you should make reference to your favorite movie. This bride loves Cars so much that she wanted to wear a pair of Lightning McQueen-themed heels. If anything, we bet that the kids at the wedding were super jealous.
The Smell Must Be Awful
Upcycling is very cool and takes a lot of creativity and skill, so implementing it into your wedding is pretty impressive — but only if you are able to do it in a classy way. Otherwise, it will very quickly turn into a literal trashy affair.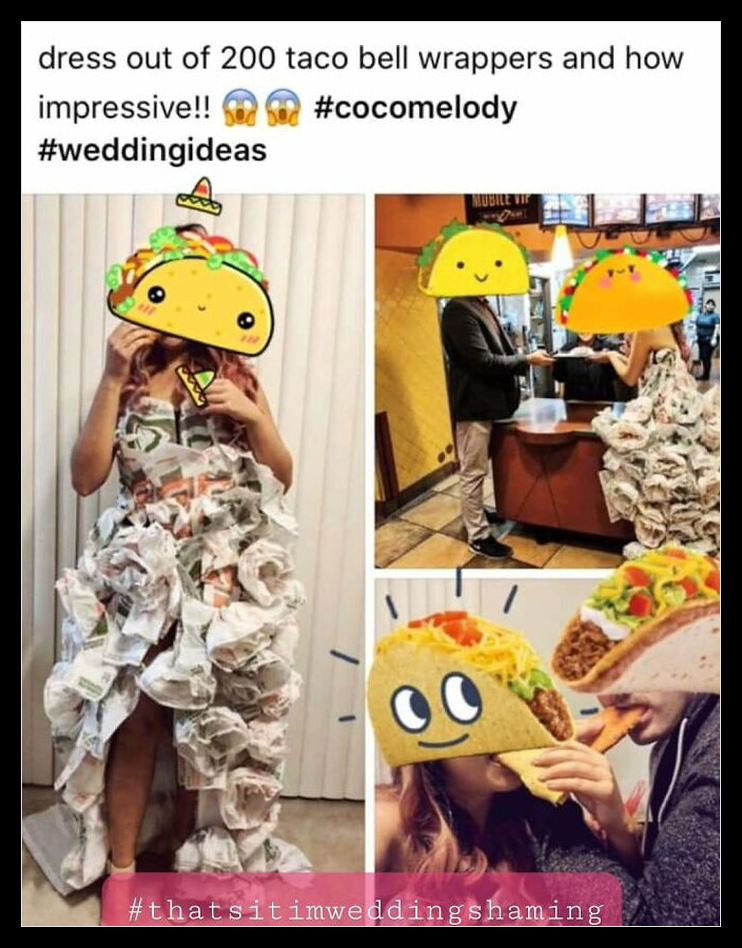 This dress was made out of 200 Taco Bell food wrappers, and we can only hope they are unused wrappers since (1) that meant a Taco Bell buffet. And (2) There is probably a weird lingering taco smell going to be around you most of the event.
Please End The Minions Trend Already
Along with the movie Despicable Me came a rush of Minion-loving fans. Fans of all ages adore these yellow creatures, but we say enough is enough. The trend has gone too far and it's just not appropriate for a wedding.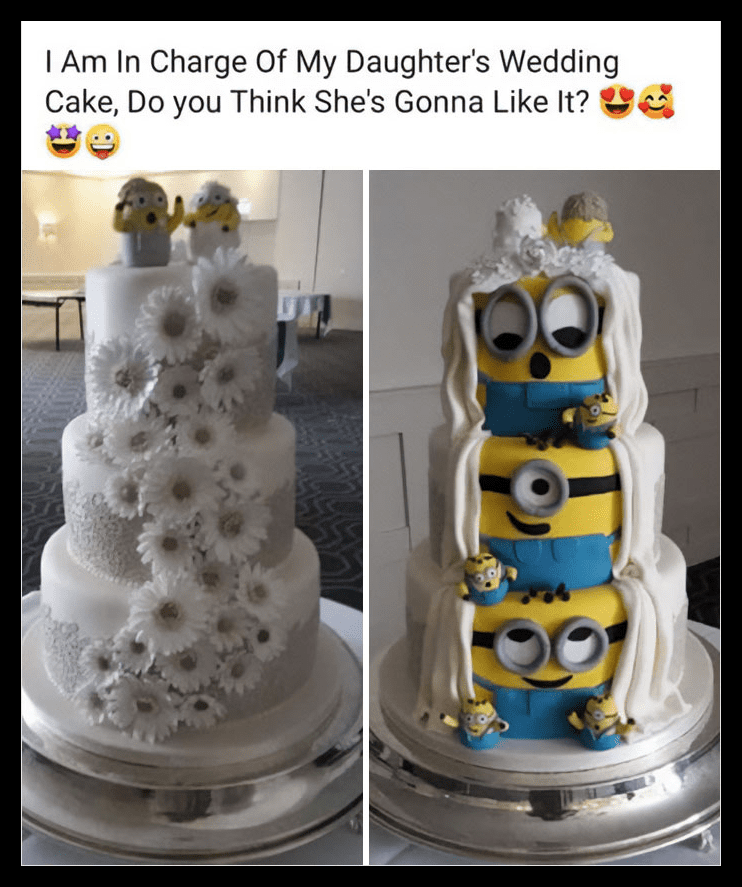 The mother of this bride decided to show off her daughter's wedding cake on her social media. While they definitely have a lot of talent when it comes to cake decorating, we don't love the idea of children's movie characters embedded into a wedding cake. Does the bride know?
Clown Catastrophe
Clowns are probably a creepy thing to 99% of the world's population. With that said we have no idea why anyone would want to have clown masks at any party other than maybe a haunted house or Halloween costume party.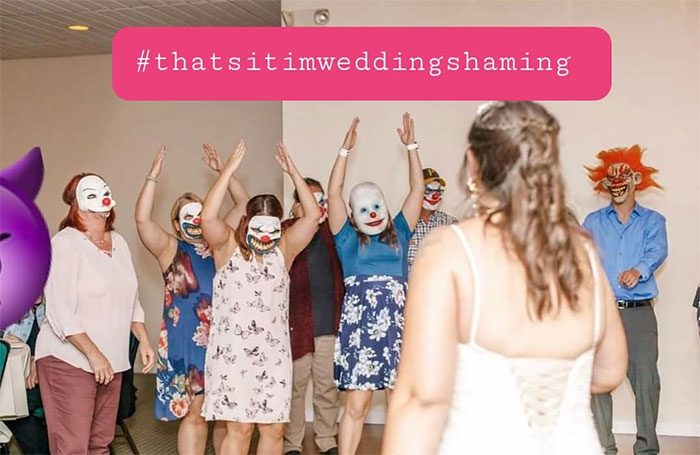 What's worse is that this image was taken at a wedding. The guests are all wearing clown masks and we don't even want to know what was happening in this picture! Is it a scene from a horror movie? We are seriously creeped out by this.
We're At a Loss For Words
Every bride has the perfect idea of a wedding dress in their mind. Whether it is how to alter their mother's dress, design a whole new dress, or shop at a million stores to find the perfect dress to say yes to, there's a dream dress out there for her.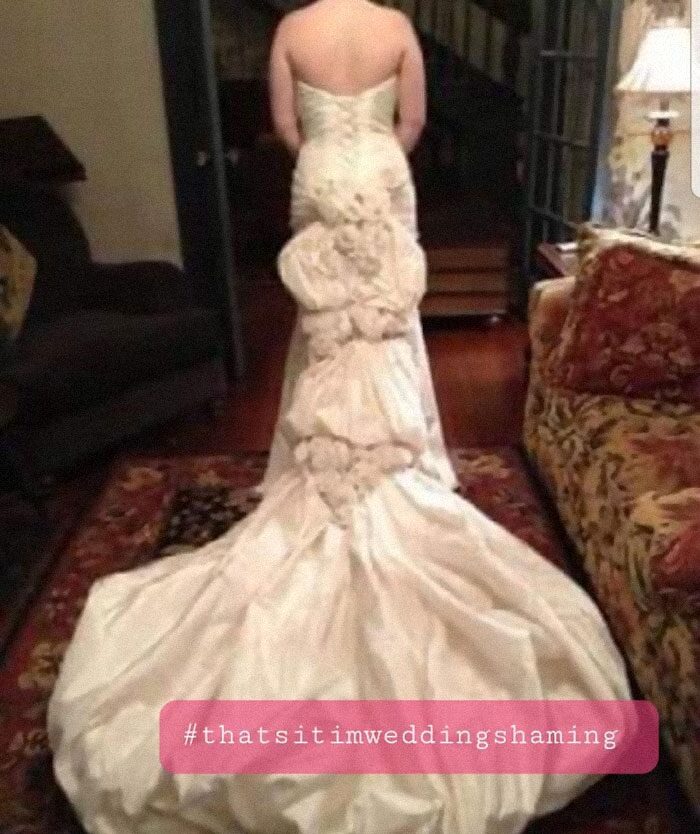 But we think this bride should have gotten a second opinion. We're not entirely sure what we are looking at. Is this a picture to show off the dress or to submit a return and complaint at the boutique that made this monstrosity of a dress? It looks like you could hide a body in there.
Yee-Haw? Yee-No.
Some brides that grew up in the countryside, or even just love the idea of a traditional life out there, might plan for a country-themed wedding. Or at least have some elements to reflect these desires. But there are some bridges that take it too far.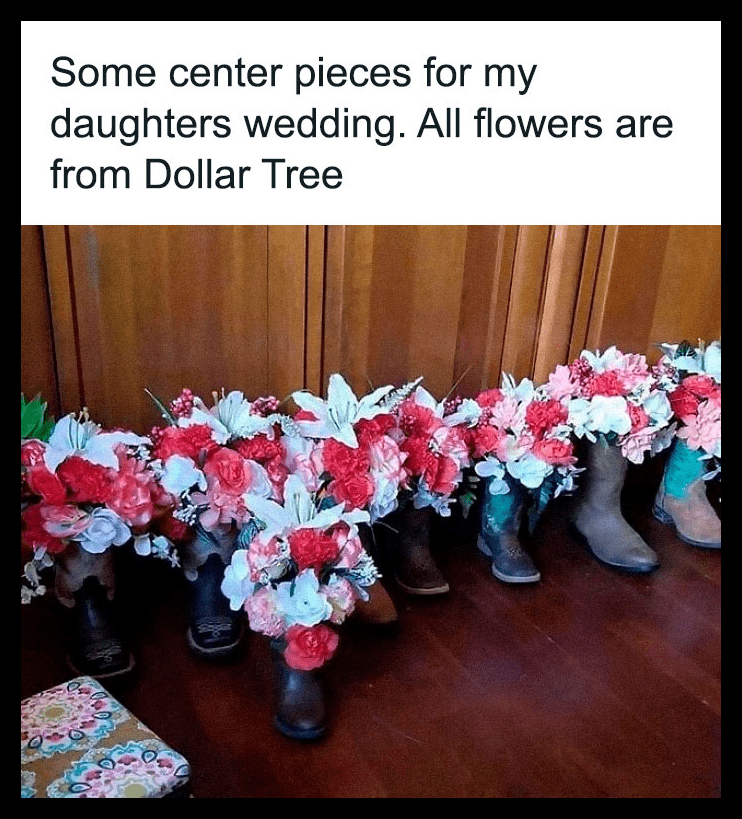 Cowboy boot flower vases? Not only that, but they splurged on dollar store flowers. There's nothing wrong with wanting to save money at your wedding, but if that's truly your aim, there are better ways to go about it. Tacky centerpieces are not the best option here.
A Thrilling Dress
Look, if you have a themed wedding, there is definitely space for you to have your dress match the theme. Keep in mind that it is going to be in your memories forever; so keep it classy and timeless for your own sake.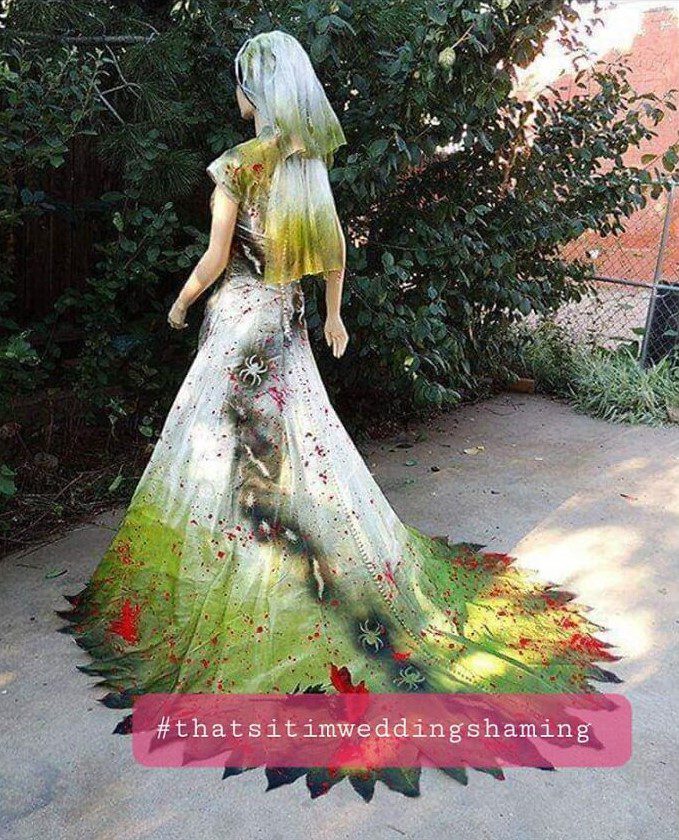 This image of this dress seriously gives us the creeps, but we can only hope that that is a mannequin and not a real bride on their way to the altar. Are those spray-painted bugs on the dress? Seriously, you can do better.
Eco-Friendly Has Gone Too Far
We love an environmentally conscious wedding; it means less waste and more kindness toward Mother Earth. But you have to keep in mind that it can get very trashy very quickly. Maybe workshop your ideas a bit more before committing to every eco-friendly idea.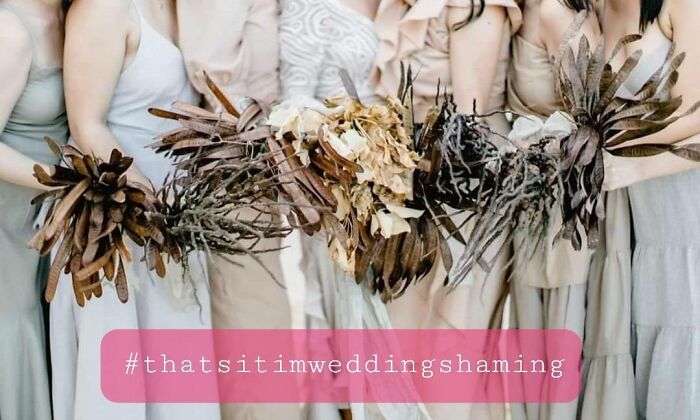 It looks like this bride has reused old banana peels and dead flowers for their bouquets. This could have been so cute if they added a bit of color, and perhaps used potpourri-inspired dried flowers instead. Reach a compromise between style and sustainability!
That's A Hazard
Choosing a special location to do a photoshoot for your wedding day is of great importance. Some like luscious green forests as their backdrop, while others choose a meadow full of flowers. Wherever they do it, they will always have great outfits on too, right?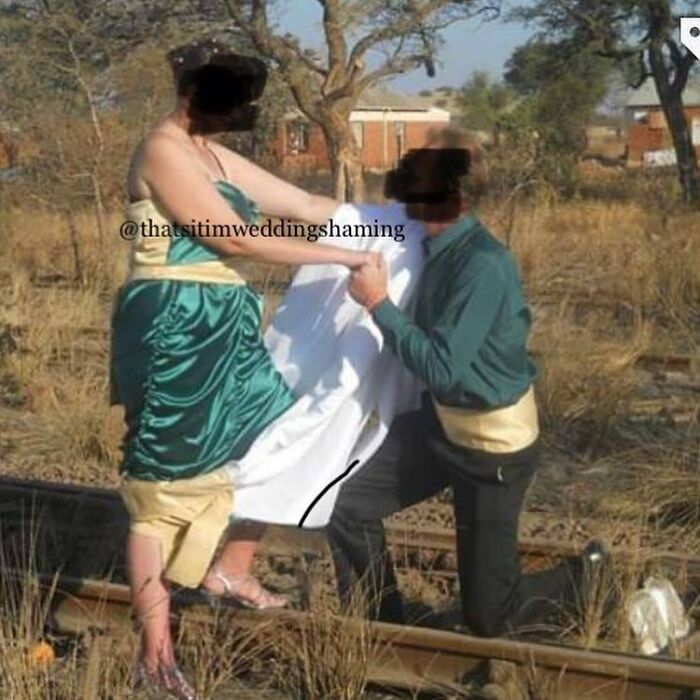 This bride and groom didn't get the memo for any of this at all. Not only did they choose train tracks — a dangerous location — but they also have very odd outfits on. The emerald green and gold put us in mind of Loki. Was that the intention?
Watch Out For Your Eyes
Wedding bouquets could be a memorable feature, or they could just be a basic flower arrangement meant to keep your hands from awkwardly hanging at the sides of your body as you walk down the aisle. If you prefer the former, make sure it's not too remarkable.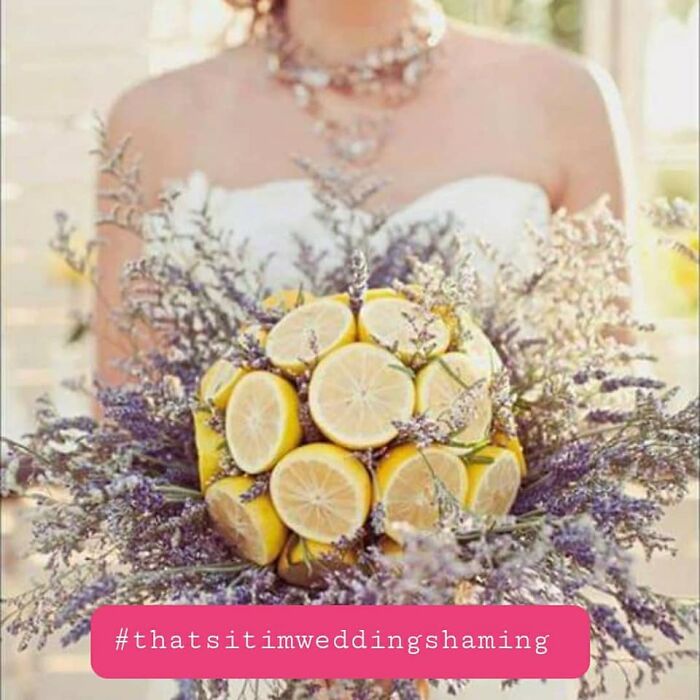 This bride made a bouquet out of purple flowers and…lemons. The yellow is strangling the line between clashing and complementing but that's not the bad part. If those are not dried lemons, someone might get some juice in their eyes during the bouquet toss.
Brooch Bouquet Bonanza
Brooches are a classy vintage accessory and could be a very beautiful touch to a wedding if you were a guest, or even a single brooch added to a bouquet to honor a passed relative's memory on your special day.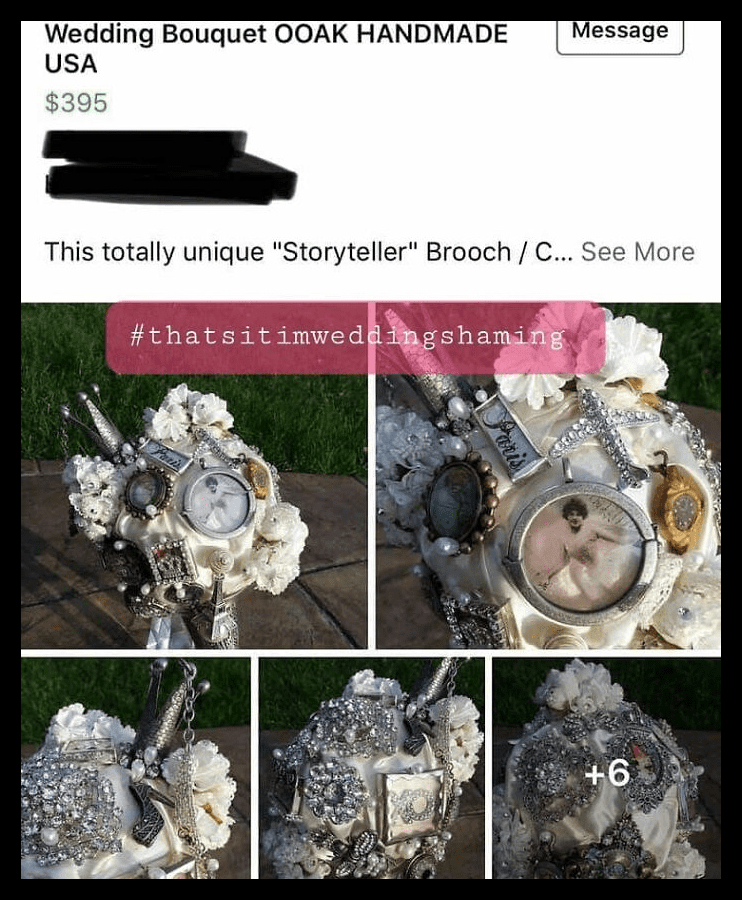 What's not cute is when you add millions of them to your bouquet. It not only looks a bit tacky, but can you imagine what the weight of this thing would be? One wrong turn and you've knocked your gran out. Plus, at $395, we'd rather pass the offer, thanks.
Over The Top
Every bride and groom has their own sense of style and it's important to incorporate that into your wedding, to make it truly your own and unique in general. But remember to keep it classy! Those photos will last forever.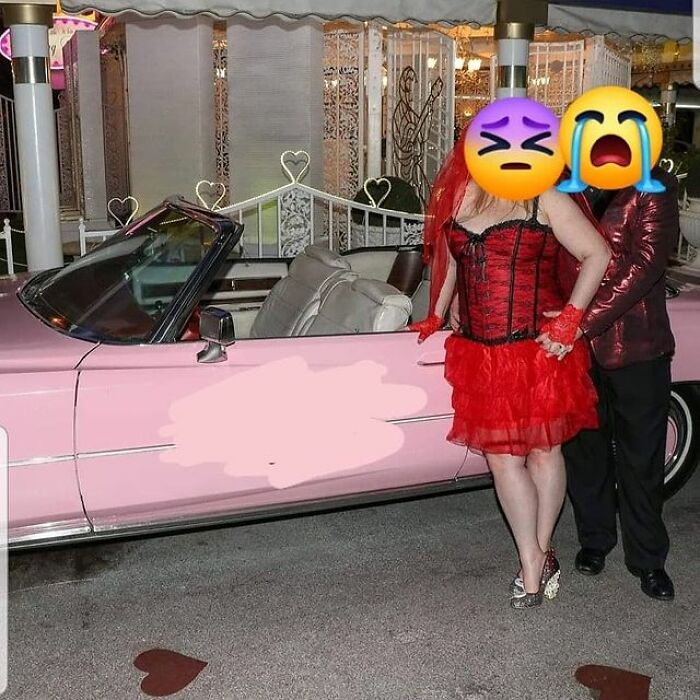 This bride and groom took their style to an extreme, every detail is a bit exaggerated and over the top in our opinion. The only thing cute in this photo is the car, but it doesn't even match their outfits — other than if they went for the "clashing" look.
Don't Jump Into Marriage
Having a unique altar could be cool in photos and be the talk of the wedding, but we're just not entirely sure why these two decided that a trampoline would be great to get married on. If they wanted to stand there, that'd be fine, but the poor wedding officiator had to be in on the madness.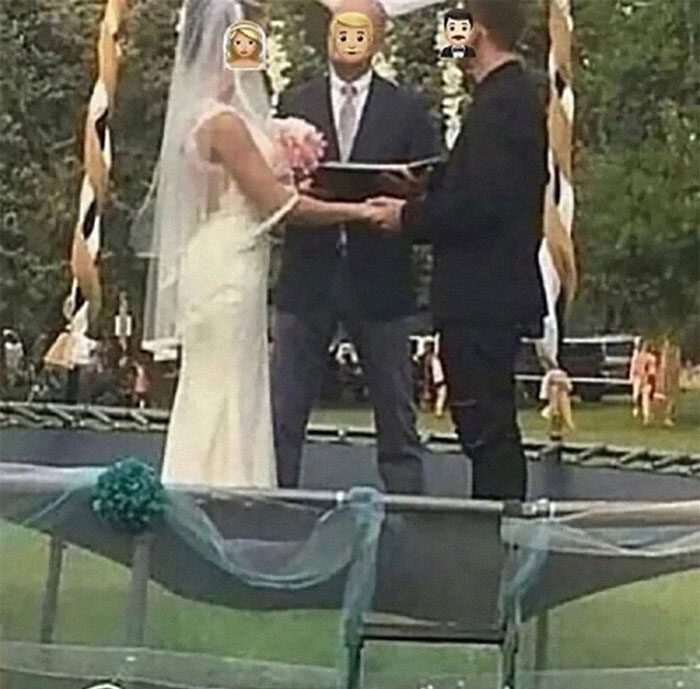 Are they both acrobats or something? Either way, whether it was an impulse or thoroughly planned, we just cannot imagine that a trampoline could hold such significant value or shock factor that you would risk breaking a leg getting up. Can you imagine the struggle to get on before this photo was taken?
Dropped Cake
The wedding cake is a beautiful tradition seen at many weddings. Usually, the cake is expected to be elegant, or perhaps have some symbols of significance for the couple, but apparently, that's not always true. Some choose an over-the-top cake that is more odd than cool.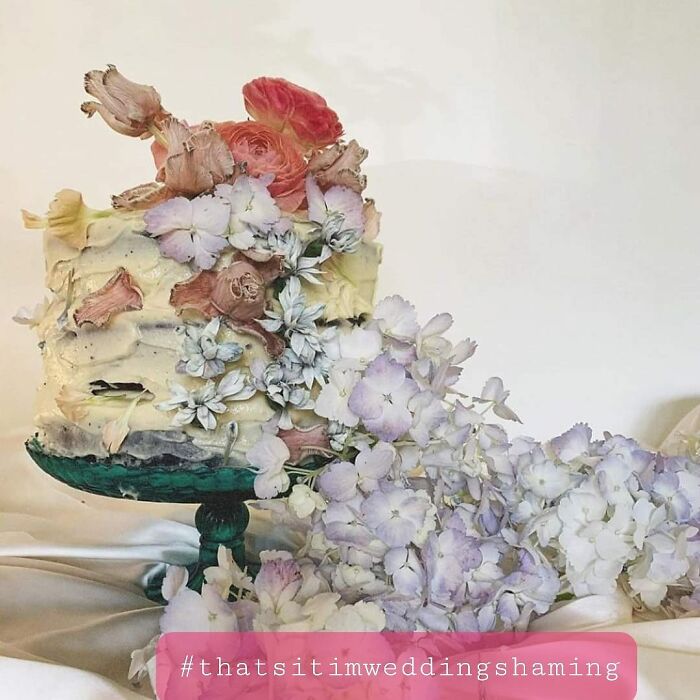 We hope this was to the bride's expectations, or else we are just disappointed as they are. It looks like the cake was dropped and then rolled in some flowers to conceal the damage. Maybe that is exactly what happened…
For Richer or Poorer
We understand that modern times means modern takes on wedding traditions. Like the outfits — non-traditional colors and brides not wearing dresses can be seen nowadays. You do what you feel good about, but please think of our eyes when you do.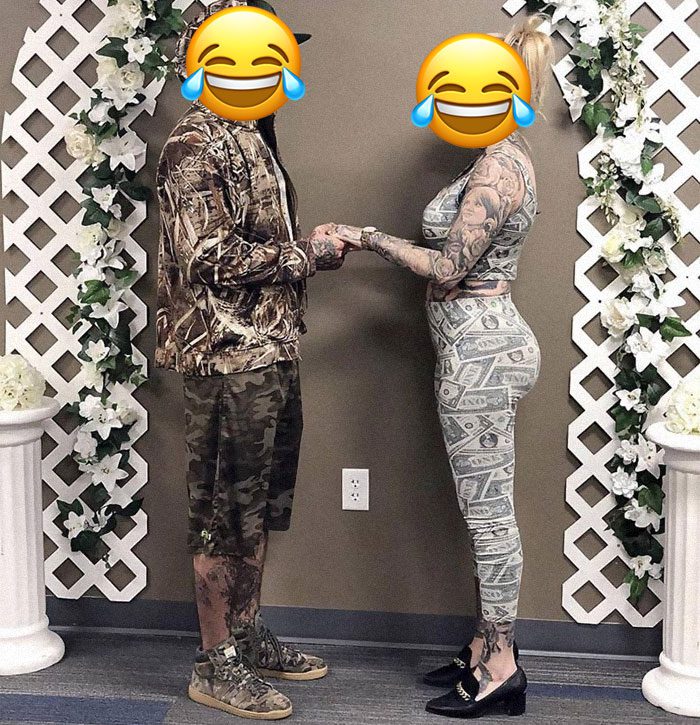 This couple chose extreme outfits to get married in. What's maybe even worse is the fact that both of their busy patterns don't even match, giving us a major headache. Maybe they got married on their way home from a costume party. We can only hope.
Please Be Joking
It is not uncommon for brides to swap out their shoes at the reception once the main ceremony is over. After all, they plan on dancing and having fun, which is difficult to do in high heels. But the comfortable shoes should still be stylish.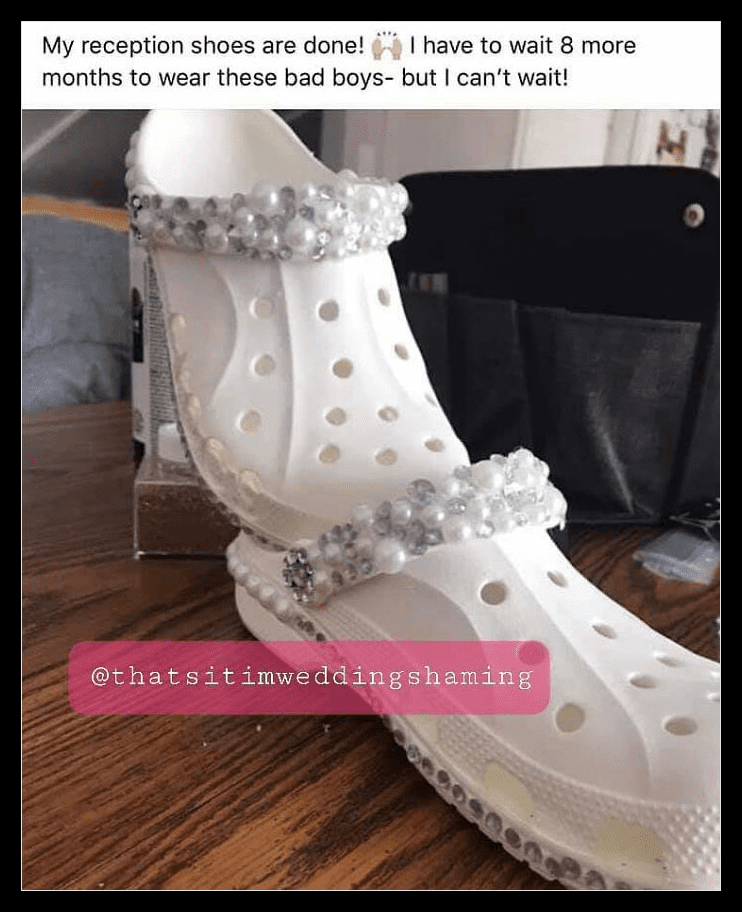 This bride decided to not only wear awful shoes to their reception, but she bedazzled them with pearls and rhinestones. When we say "comfortable shoes," this is not what we mean. We would suggest going barefoot rather than wearing these.
Spilling Cake
When you are choosing your cake decorator, it's worthwhile to invest in a properly made cake. After all, it will be a special moment at your wedding when you cut the cake with your spouse, so make sure you know the baker has the skills to execute your vision.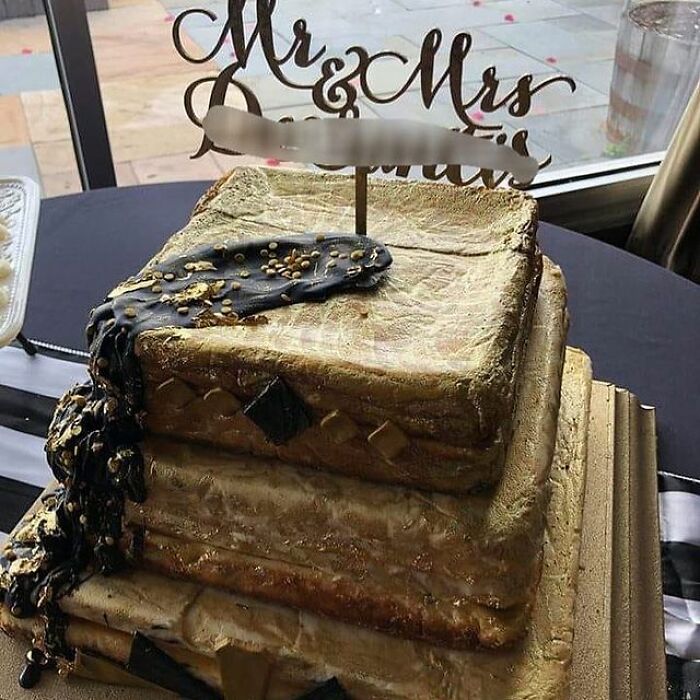 We're not sure what happened to this poor cake. Not only does it look like squares of bread covered in gold dust, but it also looks like the decorator spilled some chocolate on the cake and decided to add some sparkles to make it look intentional.
Keep The Kink To Yourselves
We're not kink-shaming anyone here — as long as it is consensual and legal. But consider the guests and staff that would see the decor of your cake and how grossed out they might be. Even if they're cool with it, make sure you'll be okay to look back on those pictures in a few decades.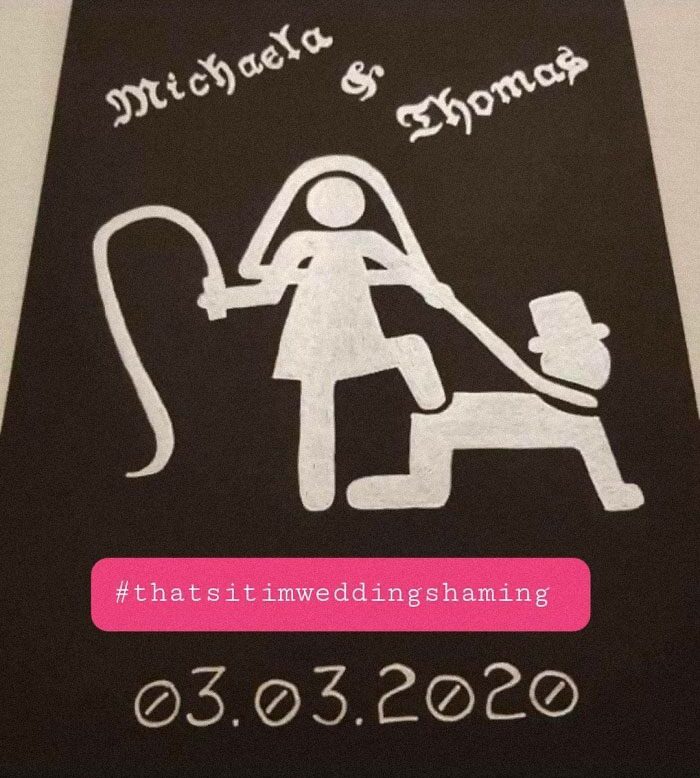 This is very clearly a cake that showcases the bride and groom's kinks, and it's alright if what they enjoy doesn't harm anyone. But again, keep it to yourselves. We don't want to know what happens in the bedroom, thank you.
Keep It Classy
Incorporating your style into your handmade wedding gown is every bride's dream. This bride was lucky enough to have her dream gown made to her liking, but we're a little confused at the result. Was she going for a dress or a cowboy outfit?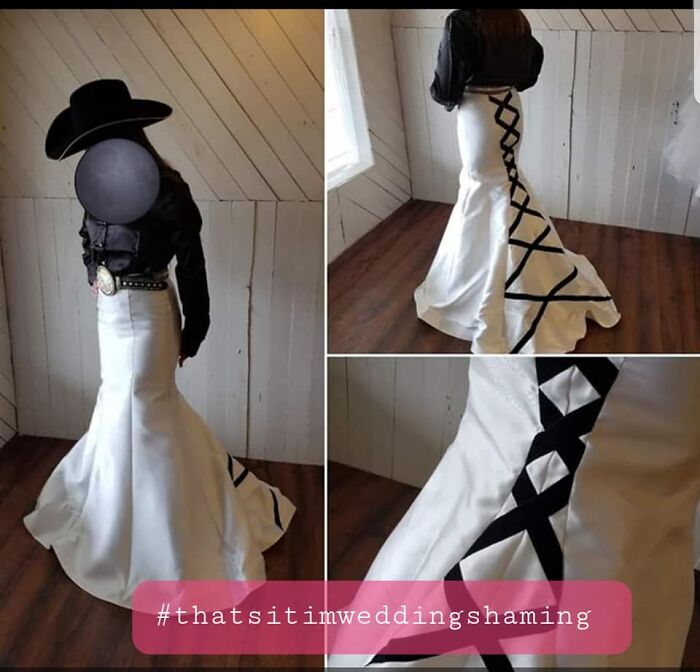 Kudos to the designer for managing to get a shirt and skirt made into one garment, but the dress in its entirety keeps confusing our eyes. Is it a shirt or is it a dress? Also, good luck if you wanted to sell it someday.
Waste Bin or Card Box
You no longer have to settle for a plain box meant to receive cards from wedding guests. You now have the option to customize it to your liking — even if your preference is to create an awful denim monstrosity like this one.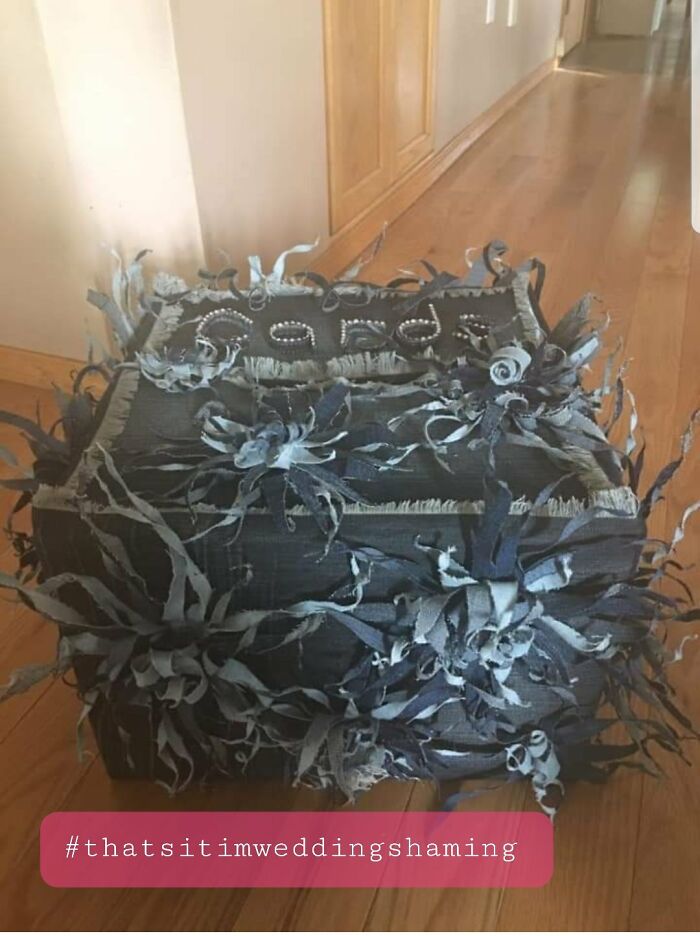 We couldn't make out what this was until we saw the words "cards" embellished on the top. We thought this was a box of scrap denim headed for the trash bin. It looks like it could come alive and haunt your dreams.
Don't Settle For Less
Brides are known to usually have the showstopper garment of the day — the wedding gown. Grooms usually settle for a classic tuxedo with an embellishment here and there if they wanted to incorporate their style into it. But the overall style is usually the same…
But we don't particularly love this groom's outfit. In fact, we hate it. It truly stopped the show since it screamed "I don't care enough to wear slacks." If your husband can't even wear a button-down shirt to his own wedding, try looking for a new man in your life.
Next Stop: Trainwreck!
Hand-painted shoes can be a work of art, especially if the artist has been doing it for years. The results could be gorgeous flowers, patterns, or sentimental wording done in a beautiful and classy way. But this image screams trainwreck.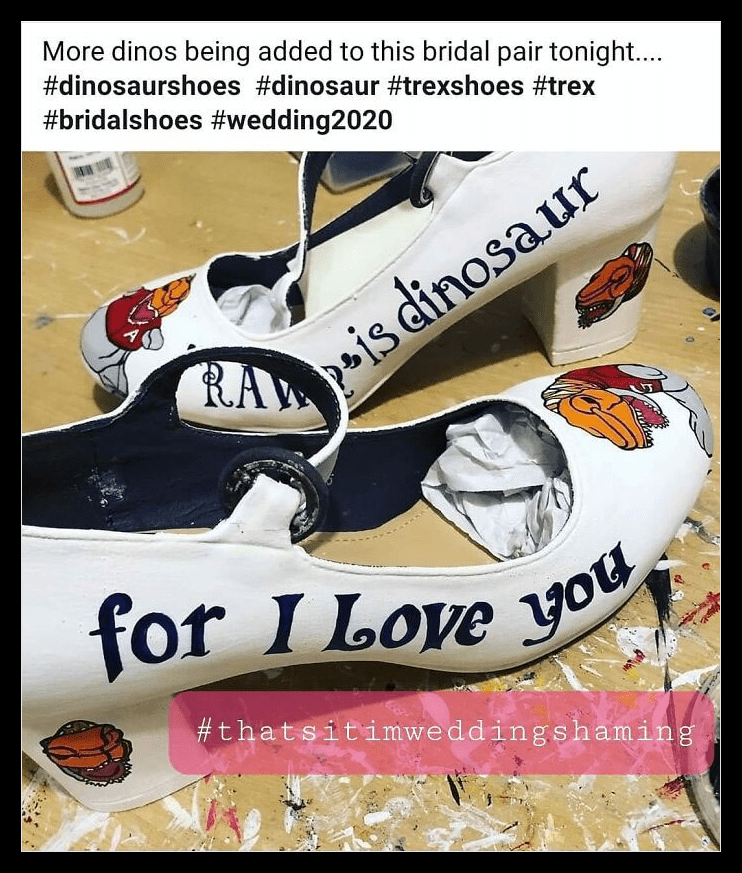 This pair of shoes is headed to a very unfortunate bride. We just sincerely hope she loves it because the rest of us don't like it at all. Is there some significance with the dinos? And why the jock jackets? Plus, keep the rawr and dino-speak for 2002.
This Belongs Under The Sea
You don't need real flowers for your bouquet. Some brides opt for a twist on the traditional flower bouquet but the secret lies in making it look good. Don't just head to your local thrift shop and throw together a few pieces.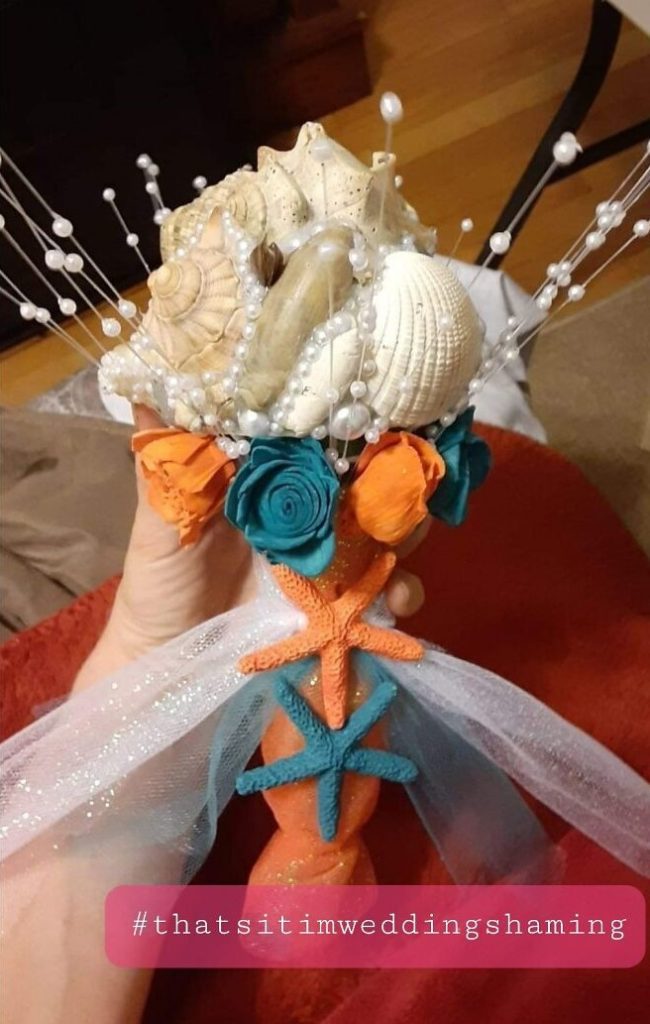 It looks like this bouquet-maker did just that: collected a few items that looks like they would fit together and created a bouquet out of them. The result is something that looks like it belongs under the sea — deep, deep down under the sea where we can't see it.
Are Those Cobwebs?
If you're doing a themed wedding, be careful to not make it seem like it's just a Halloween party. And if you do need it to look like a Halloween party, reconsider your decor. This cake confuses us because from far away it actually can look good.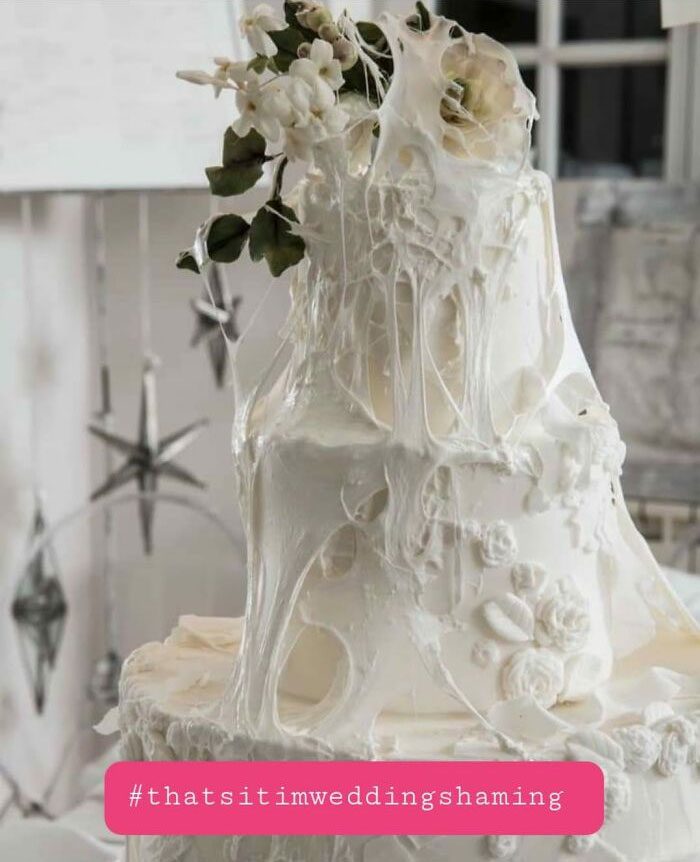 But the closer you look, the worse it gets. It looks like a normal wedding cake littered with cobwebs, but we're not sure if that's done on purpose. If it was intentionally made to look like cobwebs the decorator needs to go full in, or not at all.
Just Call It A Day
Having cool and unique wedding shoes can be a great idea if you do it properly, but be mindful of how and what you do, especially if you choose to DIY your shoes. Quality embellishments and ample time to make them could give you great results.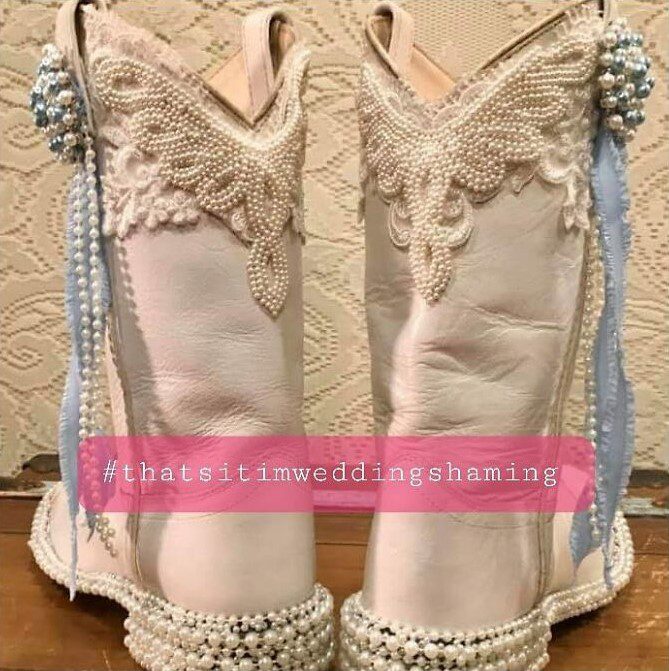 However, slapping some pearls on pink cowboy boots is hardly considered cute. You need to put a bit more effort into the design if you want to wear these down the aisle. We hope the dress was long enough to cover most of this.
Fluff Doesn't Last
When selecting your wedding shoes, you have to keep in mind that you will be walking, dancing, and possibly moving locations between your wedding ceremony and reception. This means your shoes will have to be able to last the entire day.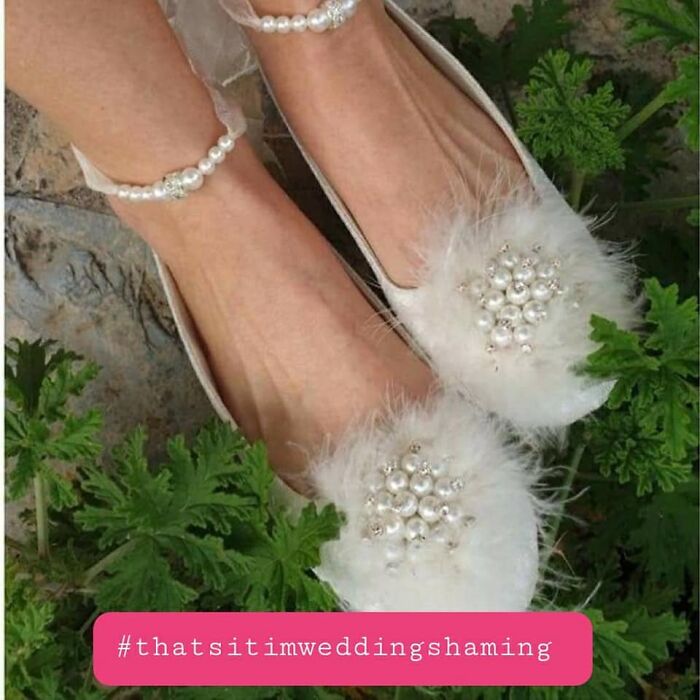 What many people fail to realize is that the fluff or feathers on these kinds of shoes looks cute for a whole minute and then immediately collect dust and dirt as your day goes along. We truly hope that she has an indoor wedding with clean floors.
Put In Effort
Your wedding usually happens just once — if you live happily ever after. So it is worth saving up some money and putting some extra effort into it. We're not saying you have to spend hundreds of thousands of dollars either.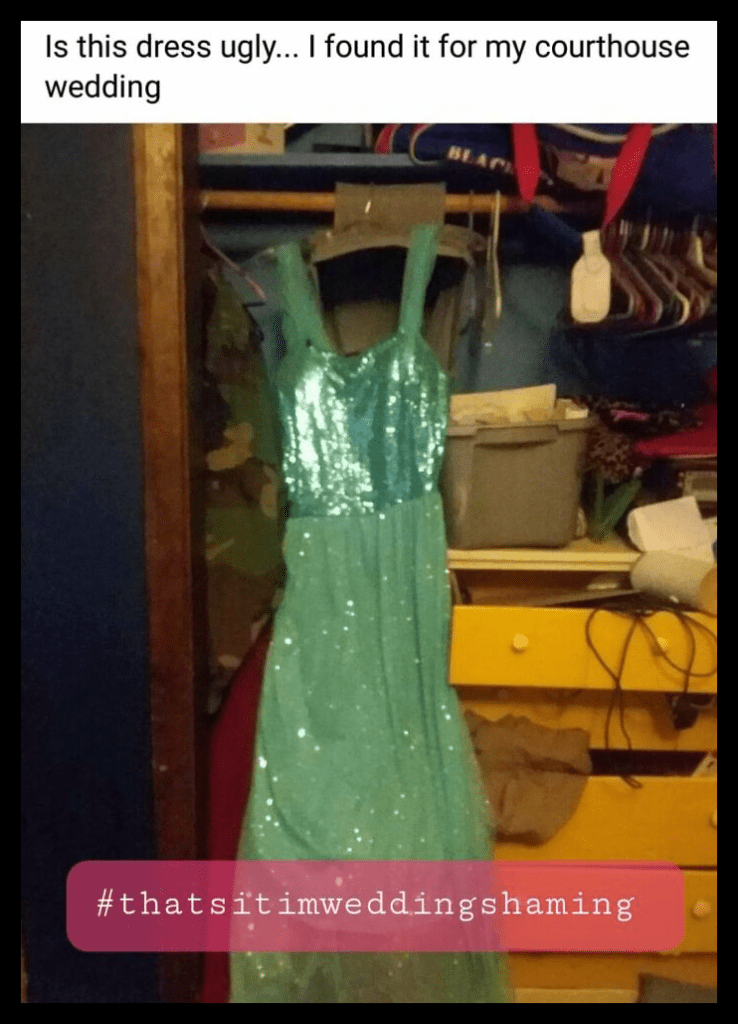 This dress just looks like it's a few decades out of style and meant for a teenage girl. Luckily for this bride, it probably saved her some money, and the fact that she's getting married in a courthouse means minimal guests to traumatize, too.
Too Much Lace!
Lace is a great fabric to use in your wedding dress. It is timeless and classy, and we even think it could be difficult to mess up and make it look trashy. But one bride's shoes outdid themselves by looking awful.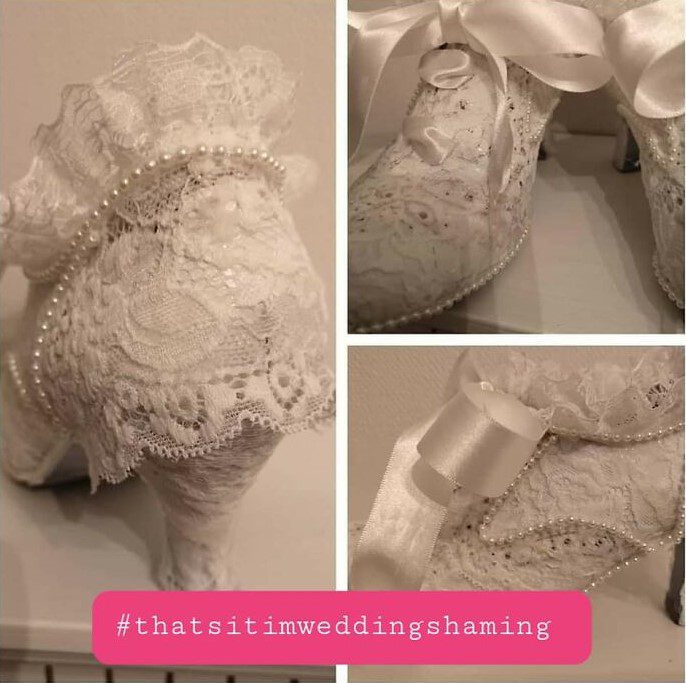 There is no world where these could be cute unless it's for some extravagant dress-up party…that is not your wedding. These will get so dirty so quickly and to be honest, the whole thing just looks bad. It's a definite no from us.
Nailed It
You don't have to get your nails done for a wedding, but many guests and brides choose to do so since it adds just a little bit extra detail to your final look. And we've seen some stunning results; some good, others not so good.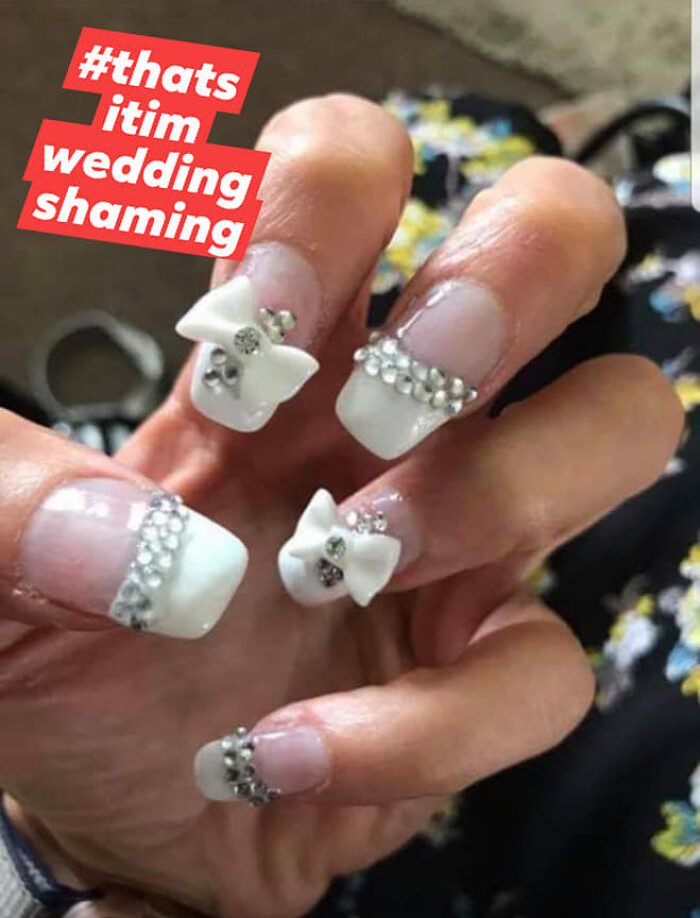 The nails this bride got seem like they could be a cute look, but it seems like the nail tech didn't do a great job with the execution of the design. It's chunky and the gemstones look just too big to make it look elegant.
Waffle Wedding
There's nothing wrong with choosing a dress that is a bit out of the ordinary, but we can't help but giggle when we see a familiar pattern. In this case, we see two familiar patterns — grandma's doilies, and waffles.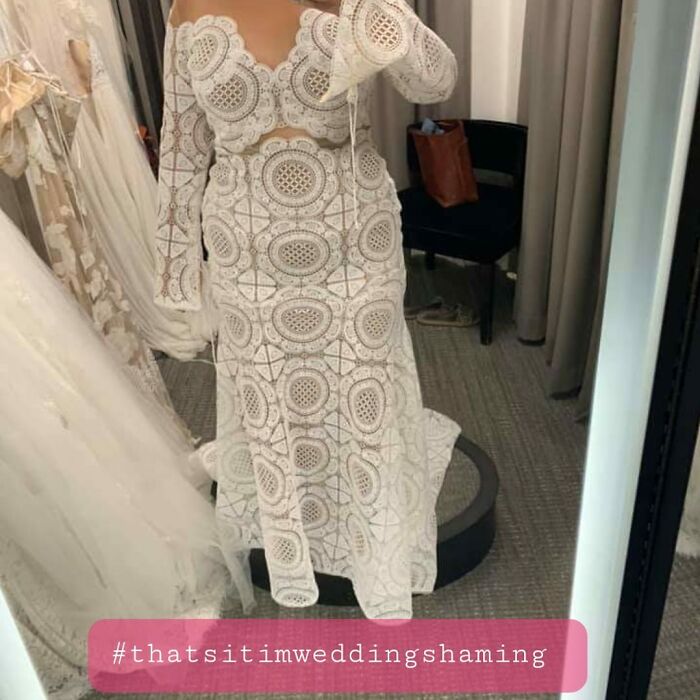 The form and fit look incredible on this bride, but the material just lacks any resemblance of style for us. And the pattern is very outdated, but the cut of the dress seems modern. Something is not adding up here.
Multi-Level Wedding
We all know a person in our lives that does some sort of multi-level marketing as a job, whether it's in person or on Facebook. And goodness, can they be annoying with their brands. Well, at least they all seem super committed to their company.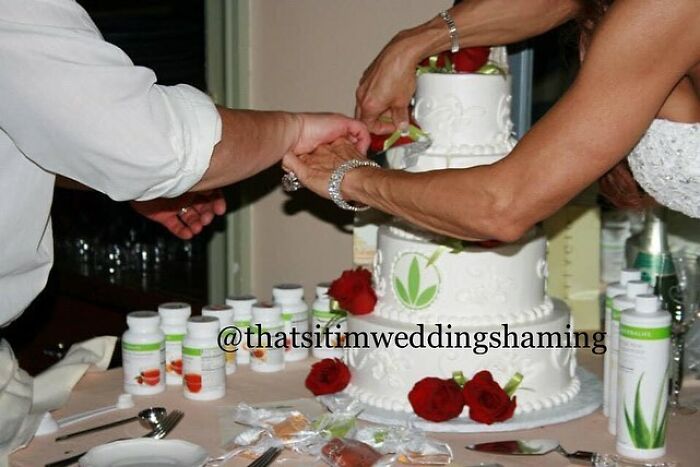 This bride and groom are, in fact, so committed that they had a Herbalife-themed wedding. If you didn't know, Herbalife is a worldwide MLM company. We just want to know if the cake was made from the healthy products the company sells or was this okay to make into a cheat day?
Tactical Wedding
What would you do if your wedding was crashed by some intruders or robbers? We couldn't imagine this is a common occurrence but it would be traumatizing nonetheless. This bride seemed to be prepared for it, though, with this bouquet design.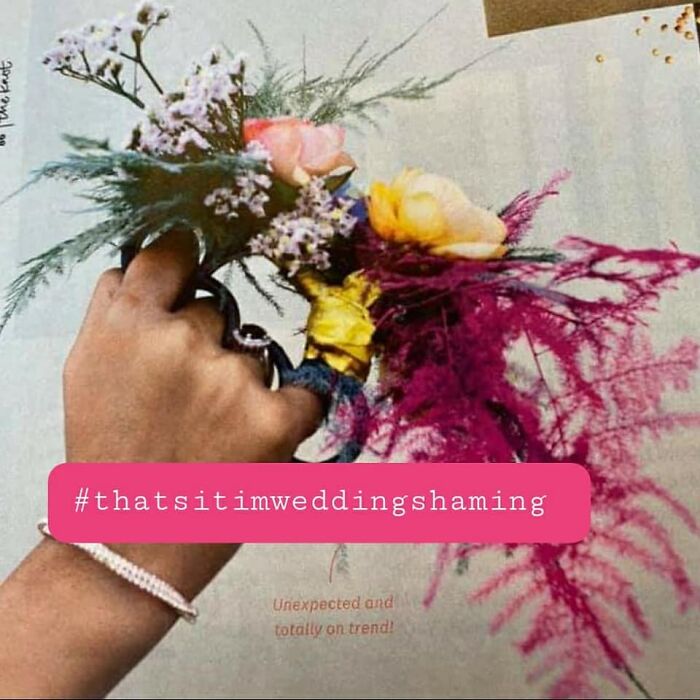 She made a bouquet glued to a knuckle buster, a common self-defense weapon that can be held with one hand. It is trashy, sure, but you know what? At least they are prepared for anything! We just hope the groom doesn't cause any trouble.
Country Gone Too Far
Adding some rustic elements to your country-themed wedding can be very cute, but you know where you don't need to go out of your way to make it look rustic? That's right, it's the area where your guests go to relieve themselves.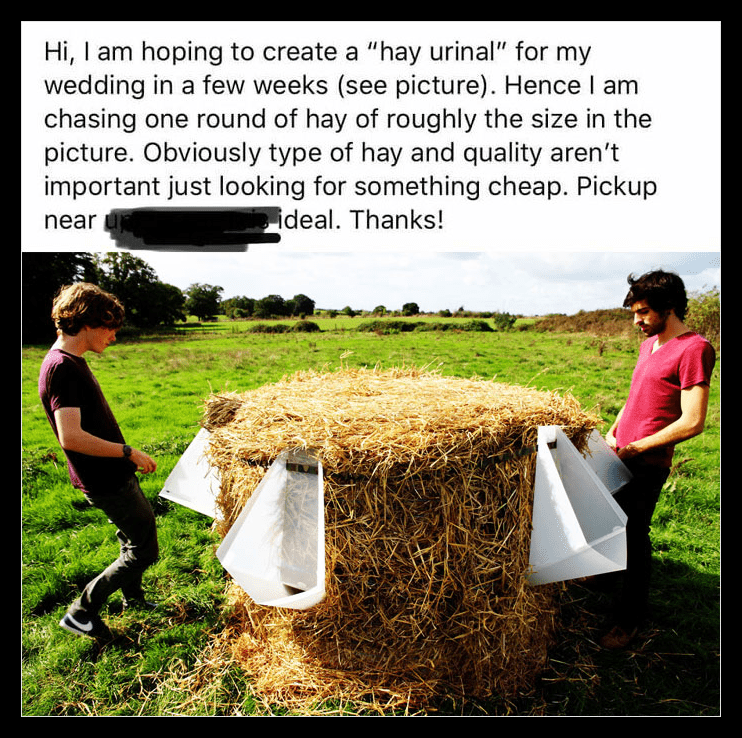 The convenience behind this idea makes sense but it is extremely gross in reality. We can't imagine how bad this will smell after a few hours, not to mention if this gets any heat from the sun. How would you even dispose of this thing in a sanitary way?
Please Don't Let That Be a Bouquet
As a general rule, don't use any pipe cleaners when it comes to your wedding decor or any event meant for anyone over the age of 10 years old. It has never been a classy look and we don't think it will be anytime soon.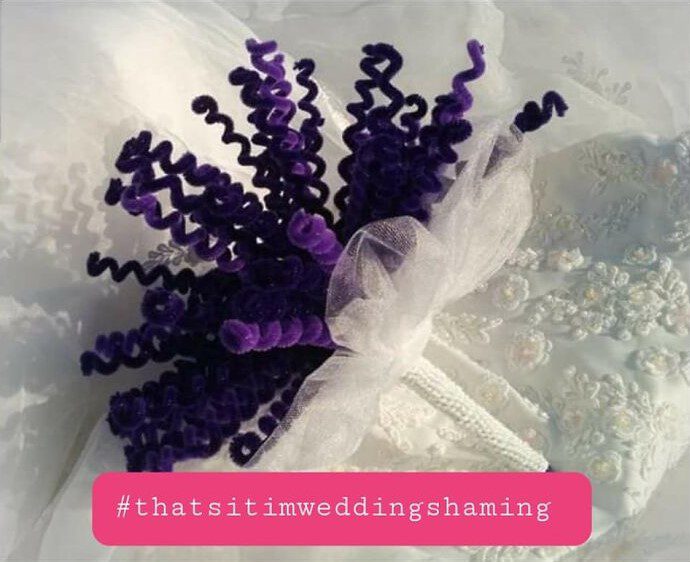 We aren't sure if this is a bouquet or table decor, but either way, it deserves to be shamed. The color is extremely contrasting with the soft white in the background or the dress. So just throw this one in the trash and get someone to make you proper decor.
Bologna Nails
Nails can make or break an outfit, and we think, in this case, it definitely broke the outfit. Everything about this is bad — the colors, execution, and shape. It looks like extruded meat stuck to their nails. So gross!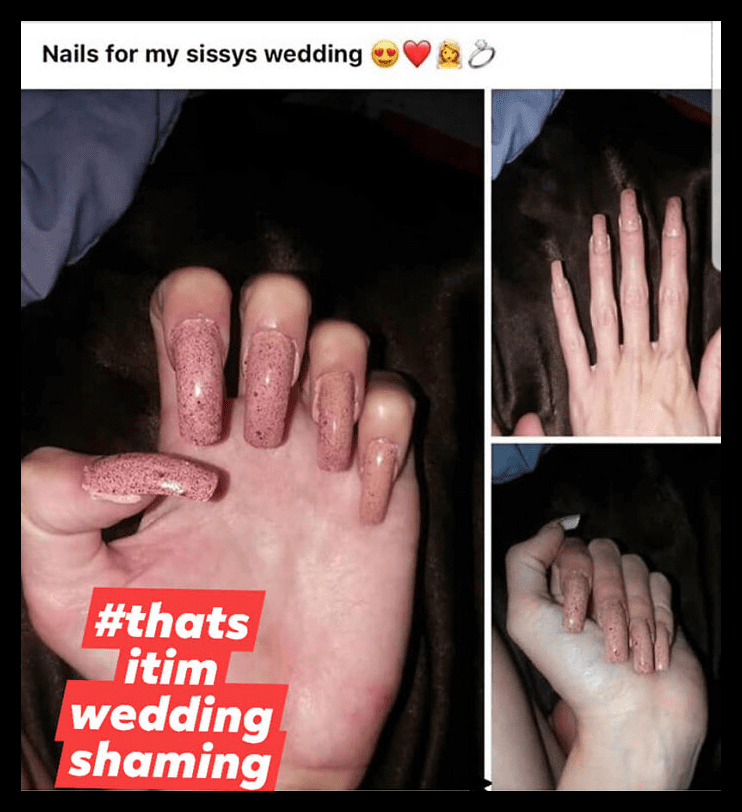 We are just very relieved that it is not the bride's nails, but we are still concerned for the bride since it is her sister's nails. Let's hope they're not a bridesmaid or else everyone will see her hideous nails.
Wedding Decor Is Out
This one is not as bad since it wasn't actually at a wedding, but the person who commented definitely is planning on using skulls and sea glass at their wedding in the future. We would respectfully decline the invitation to said event.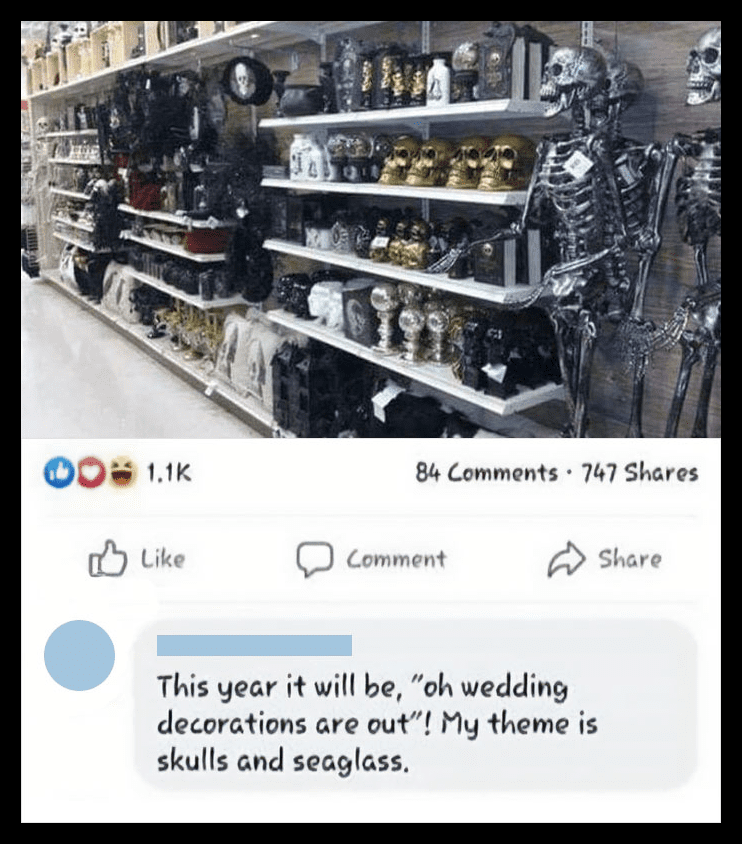 We don't understand how skulls and sea glass tie into wedding decor. Are you going for a haunted ship's crew look? Or maybe you are sending a hidden message about your relationship to your guests that the sails of love are going to come crashing down.
Stick To Florist-Made Bouquets
DIYing your wedding bouquet is nothing new, but it has rarely been successful, and that is evident in this picture. Not only is it overwhelming to look at, but nothing seems to be matching. No colors or textures are the same.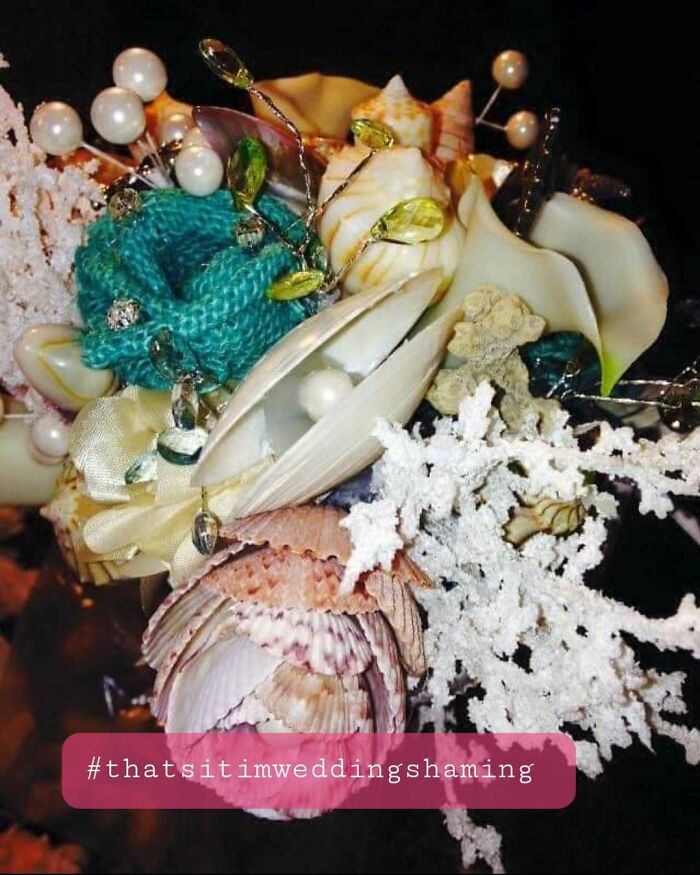 If you are going to DIY your bouquet, get some opinions from friends and family first, or else just stick to asking a florist to compile a handmade bouquet for you. We guarantee you will be happier than having this bad arrangement.
Don't Share The Horror
Selling your wedding dress is a common thing some brides do since you will hopefully not need the dress again. After all, the implication of the celebration is that it's a one-time event. But if you have a horribly designed dress, just throw it away.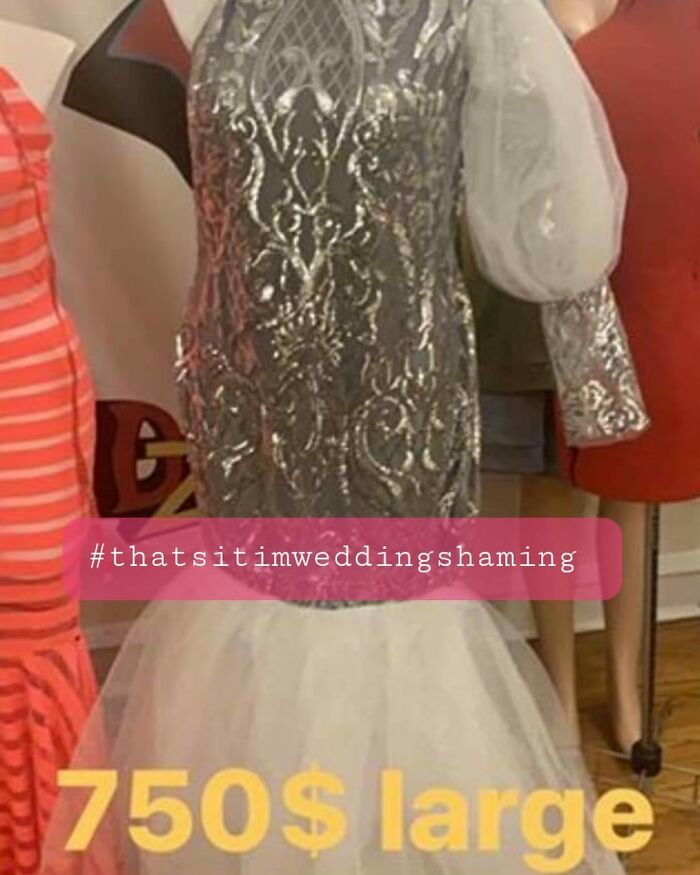 There is no need to share the horror with the world, especially not at $750. We doubt anyone is willing to pay more than $10 for this, and if they do pay even that much for it, it's probably becoming a cleaning rag.
Bye Bye To Bling
Glitzy and glamorous weddings were a massive trend in the 2000s, and we're very glad to see that fad long gone. You can still incorporate some sparkle into your wedding decor, and there's usually nothing wrong with that. Key word here is "usually."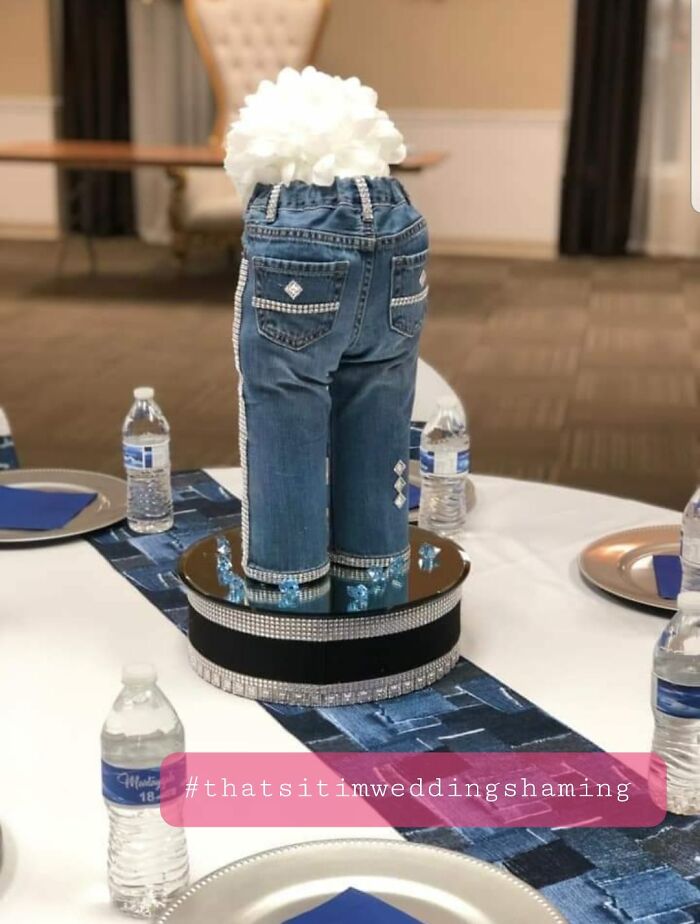 But this bride took it to another trashy level. Unless her wedding dress was made from denim, and we truly hope it wasn't, we don't get why there is so much denim and sparkles going on in this table decor. Trash bin, here it comes!