Older, Wiser, And Cooler: 40+ Seniors Who Epitomize The Power Of Staying Young At Heart
By Ishita P March 28, 2023
---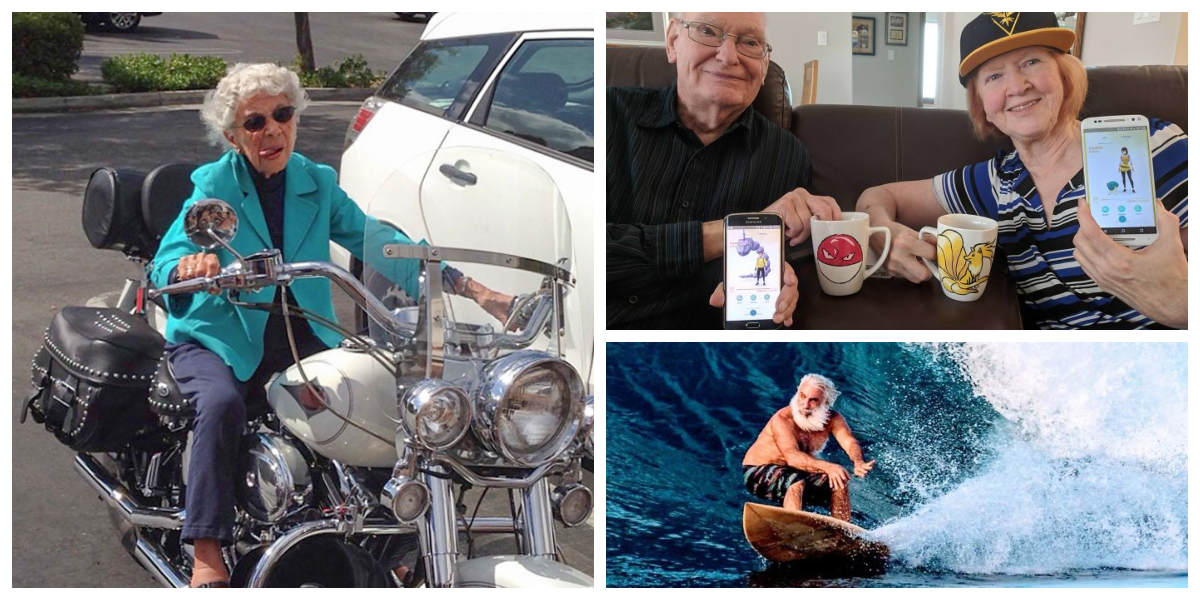 Nowadays, people across the globe are obsessed with looking and staying younger. As a result of this unhealthy infatuation, we have forgotten to enjoy the little moments and lead a fun, fulfilling life.
Thankfully, some incredibly awesome seniors across the internet are smashing the stereotypes of aging in the most wholesome manner! This fun bunch proves that the "second innings of your life" can be extremely positive and memorable if you have a more optimistic outlook and stop caring about society's opinions.
From attempting daring physical adventures to displaying a top-notch sense of humor, these icons break false notions about aging and inspire the younger population. So, read on as we introduce you to 45 senior citizens who epitomize the art of being cool.
Mastering The Waves
As we get older, we progressively forget to live in the moment. However, this picture of a 91-year-old man having the best time of his life is now winning people's hearts across the internet. With this snap, he proves it's never too late to pursue the adventures you've always wanted.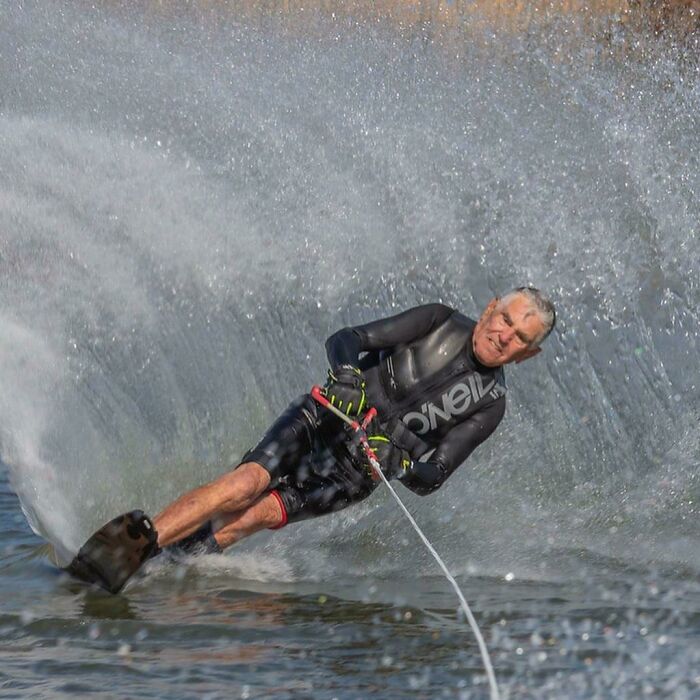 He looks so effortlessly cool and brave, treading the waves. In fact, thanks to his fearless sense of adventure, he has inspired us to take the leap of faith and explore some of our own fears! So, if you've been thinking about skydiving or rock climbing, the time to do it is now.
Super Anniversary!
This adorable picture proves that you need not have the same old-school celebration every year on your anniversary. Instead, you can take a cue from this lovely old couple dressed in cool "superhero" aprons and jazz up your love life!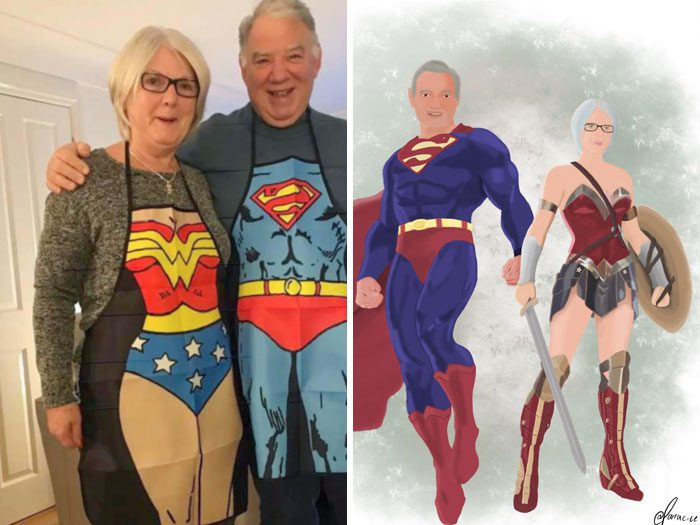 The man is decked up in a Superman-inspired apron, while his wife wears one inspired by the badass Amazonian, Wonder Woman. The cute couple was in for another fun anniversary gift as their grandchild drew a portrait of them as the iconic superheroes!
Pink Hair Dont Care
Have you always wanted to get a fun haircut or buy a cool outfit but stopped yourself from doing so because you feared getting judged? Well, be inspired by this 90-year-old punk grandma who looks like a diva, thanks to her striking pink Mohawk!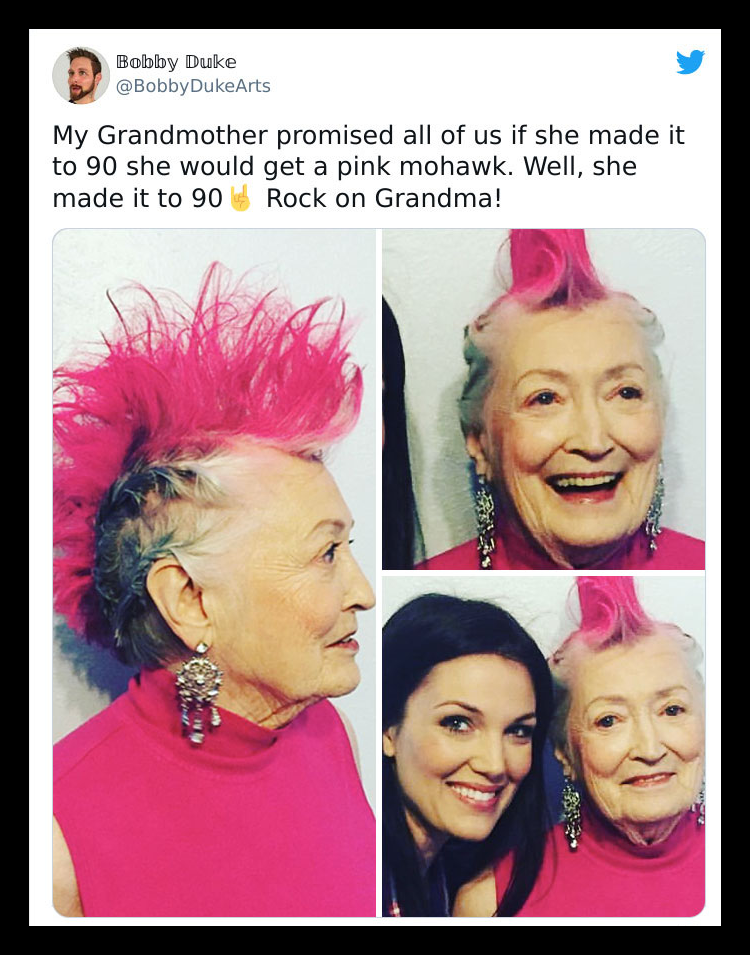 The beautiful older woman decided to take the leap with this bet and didn't go back on her word when her 90th birthday came around. In the photos that have since gone viral, the vivacious woman looks iconic as she rocks a hairstyle most of us can only dream of pulling off!
Under The Sea
When you have a lifelong dream, you can go to any extent to make it come true. This 87-year-old grandfather serves as the best example of that. A huge history buff, he learned scuba diving only because he wanted to check out the shipwrecks left behind at Palau since World War II.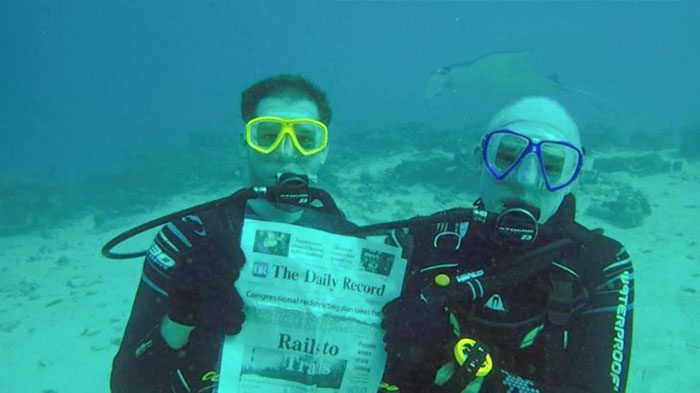 Despite being in his late 80s, the determined senior strived hard to fulfill his wish. He even posed with his local newspaper underwater to capture this achievement, so he could cherish it forever. The lesson here is, don't let age stand in the way of chasing your passion!
On Cloud Nine
There is no set age for doing bold activities like skydiving, bungee jumping, surfing, underwater diving, etc. If you think you are too old to take on such adventures, this daring 70-year-old woman in the photo below will prove you wrong.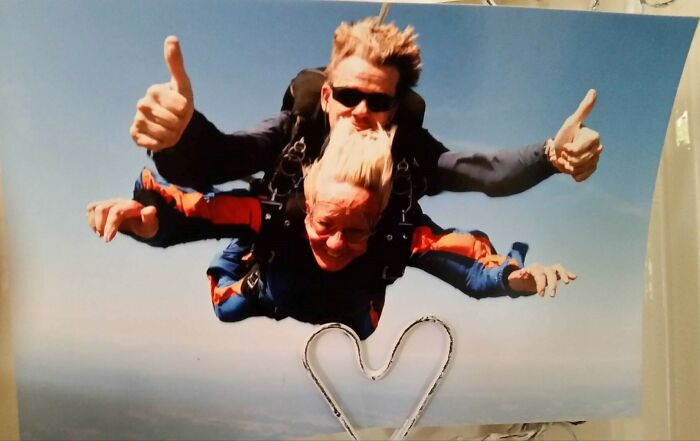 Instead of sitting and having a quiet birthday like society expects people her age to do, she decided to leap from the sky on her special day. It is truly a once-in-a-lifetime experience, and what better way to usher in your 70th birthday than skydiving?
It's Never Too Late for Romance
There is something special about old-school love. Nowadays, people hardly find the time to go out on fun dates, so they rely heavily on dating apps. But spending time with a loving partner is one way to stay happy and carefree, especially when you are old and wrinkly.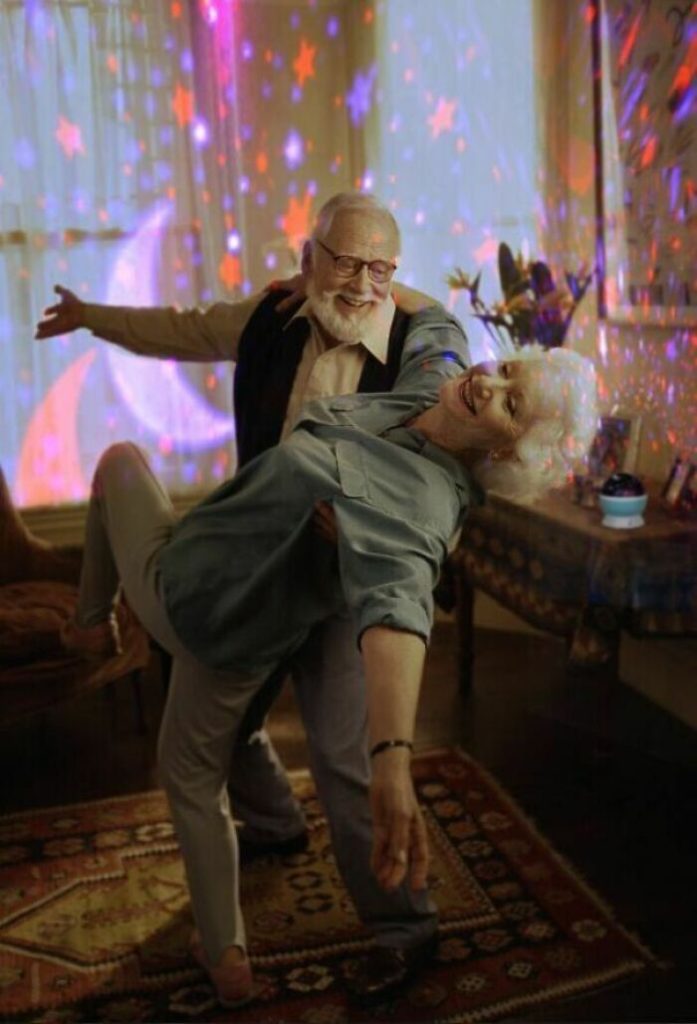 For instance, this old couple striking a lovely dance pose as the husband stares affectionately at his wife is truly beautiful. Despite it being their 60th wedding anniversary, their love looks and feels young and refreshing. The younger generation can definitely take a cue from these two.
Doctorate at 77
Many of us often make the wrong career decision and get stuck. Then, we get wary of naysayers and put a full stop to our lifelong dreams. But if you ever need a boost to chase your goals, take inspiration from this lovely older woman who graduated with her Ph.D. at 77 years.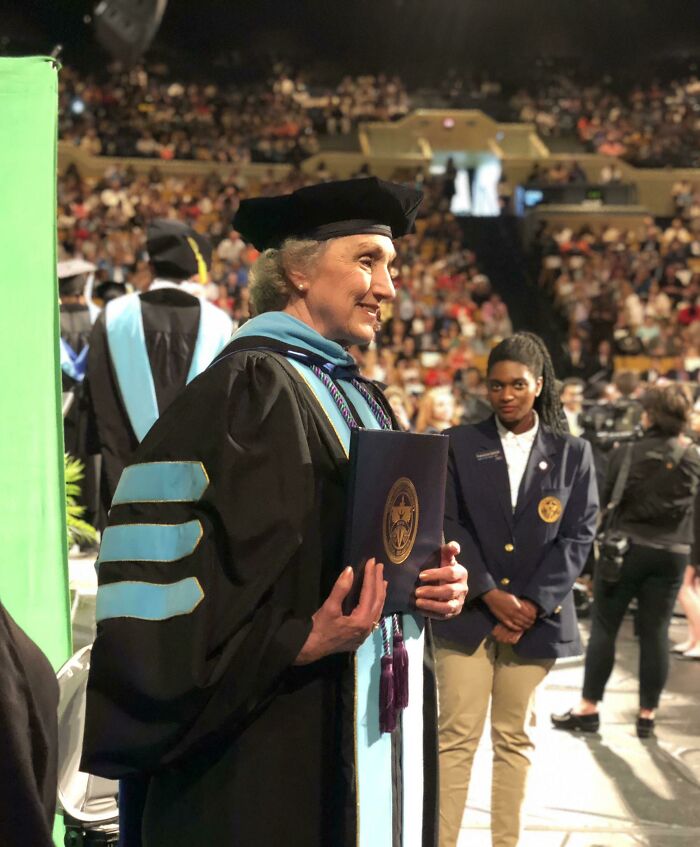 The oldest graduate from the university, this woman proudly holds her degree as she smiles at the camera. Cynics must have tried to hold her back, but she did not let their opinions deter her. So, let this picture remind you that it is never too late!
Master Of The Pole!
This guy may be a year shy of 90, but he still has the energy and liveliness of a 35-year-old! On the day of his 89th birthday, he decided to hang on from a pole horizontally and get a memorable photo clicked.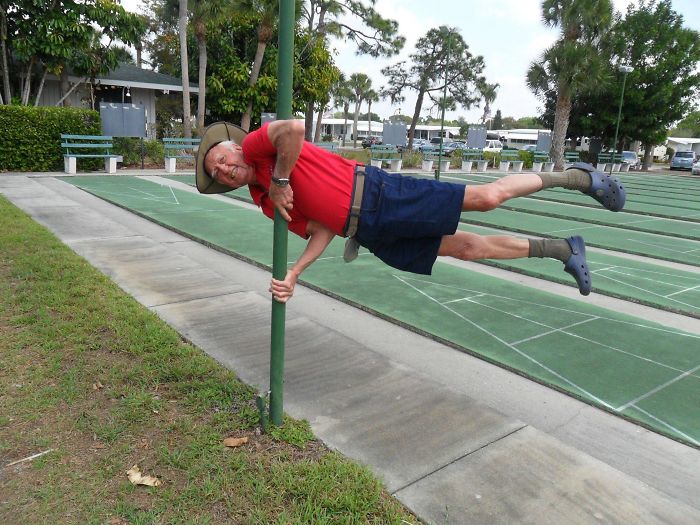 If this man, aged 89, can lead a life filled with so much fun and joy, so can we. This photo should inspire us to pay no mind to what onlookers may think and enjoy every moment in our daily life to the fullest.
Feast Your Eyes on These Cool Cookies!
You may have seen a lot of sassy things in your lifetime, but have you ever spotted a cool cookie? This grandpa proved that it is never too late to play harmless pranks on others as he gifted people these "unique" cookies on his birthday.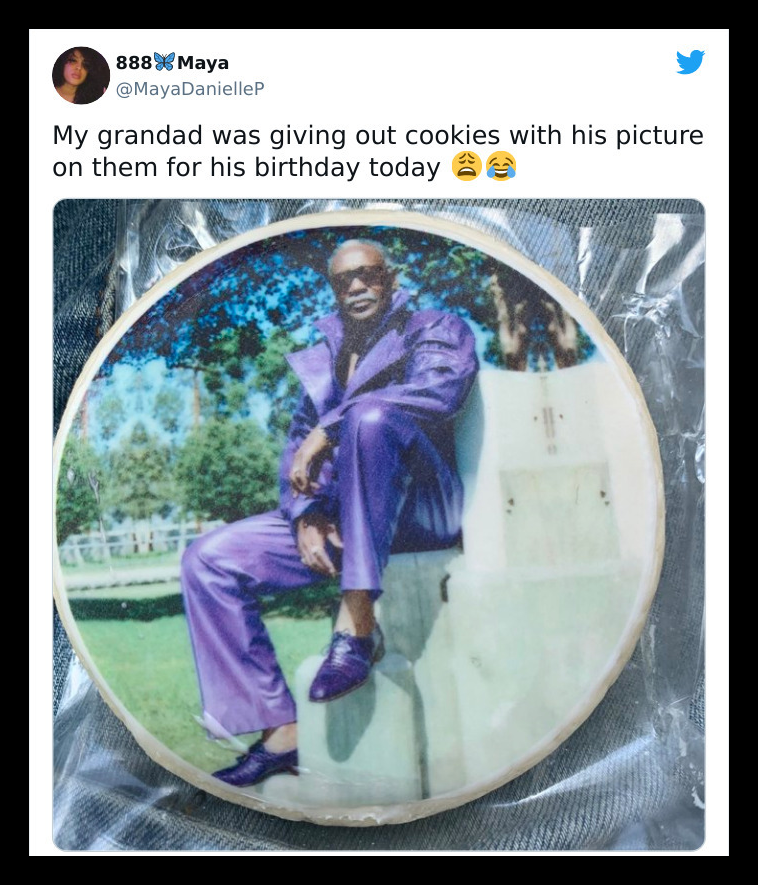 His outfit in the image imprinted on the cookies made them even more memorable – a shiny purple ensemble from head to toe with matching purple shoes. So, if you have a funny side just like him, don't hide that from the world.
A Betty Boop Stan
Most individuals often stop themselves from getting inked since they think that the tattoo would look bad when they are older. But judging by this photo of a lovely older woman flashing her unique tattoo, they couldn't be more wrong!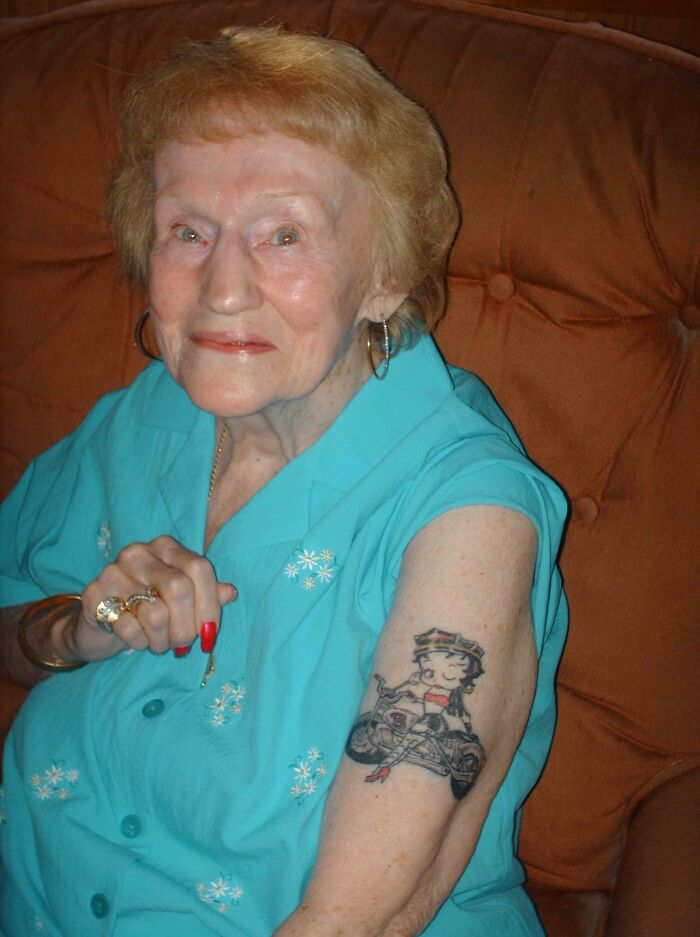 In the cute picture, the older woman is seen displaying her arm, adorned with a cute "Betty Boop" tattoo, and she looks extremely proud of it. So, don't be a killjoy and get that tattoo you have always wanted without worrying about its appearance after a few decades.
Surf Dude
As we get older, we sometimes put a limit on having fun. Many think adventurous activities like kayaking, trekking, rock climbing, etc., are only reserved for young people. But this picture of a 60-year-old man surfing like a pro has gone viral, inspiring everyone.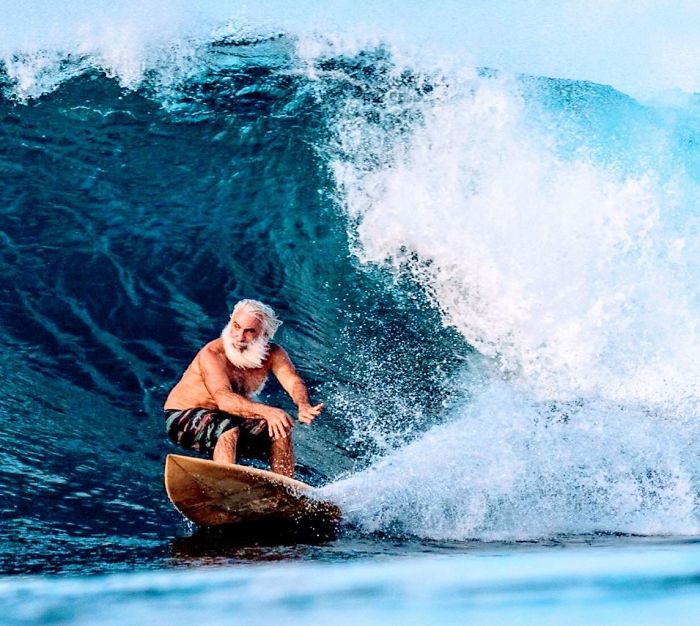 Just look at that beautiful hair and beard flowing in the breeze! The guy looks cool and free as he surfs through the enormous sea waves. If you have ever wanted to go on an adventure, take a page from this fearless man's book and have the time of your life.
Wonder Woman
People across the internet are showering loads of love on this picture of a grandma in a Wonder Woman costume. Her granddaughter posted the photo online, speaking about how she had zero qualms over trying on the unique ensemble and posing like a true superhero!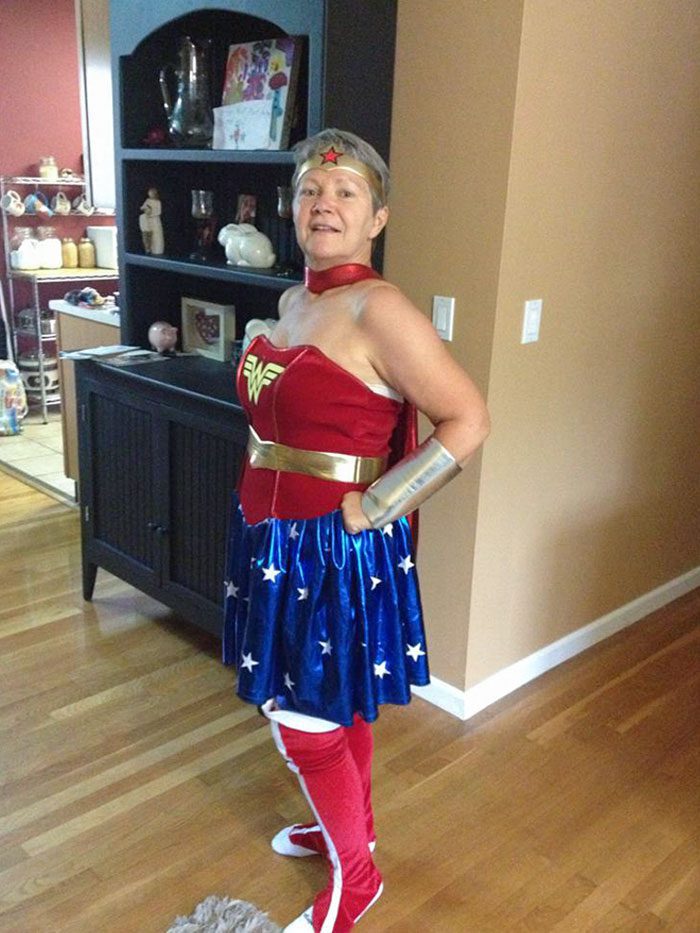 Despite her old age, this lady didn't shy away from rocking a fun outfit and striking a cool pose. This beautiful picture of her dressed as the iconic superhero is proof that when you are young at heart, nothing else matters.
Bonafide Model
Instagram is a social media app largely ruled by the millennials and Gen-Z. However, this stylish older man brings much-needed freshness and originality to the platform, and people are here for it. He has amassed a strong following for his stylish outfits.
Decked in impeccable outfits and styled by his own grandson, he looks like a top supermodel who has just walked off an exclusive fashion runway. From cool jewelry and hip sunglasses to stunning prints, everything about his ensemble screams "chic."
Ready For The Eclipse
No matter the age, one should always be excited about unique events and happenings, as seen in this viral photo. This 101-year-old woman understood the value of enjoying the little things in life, so she fully equipped herself to watch the elusive eclipse.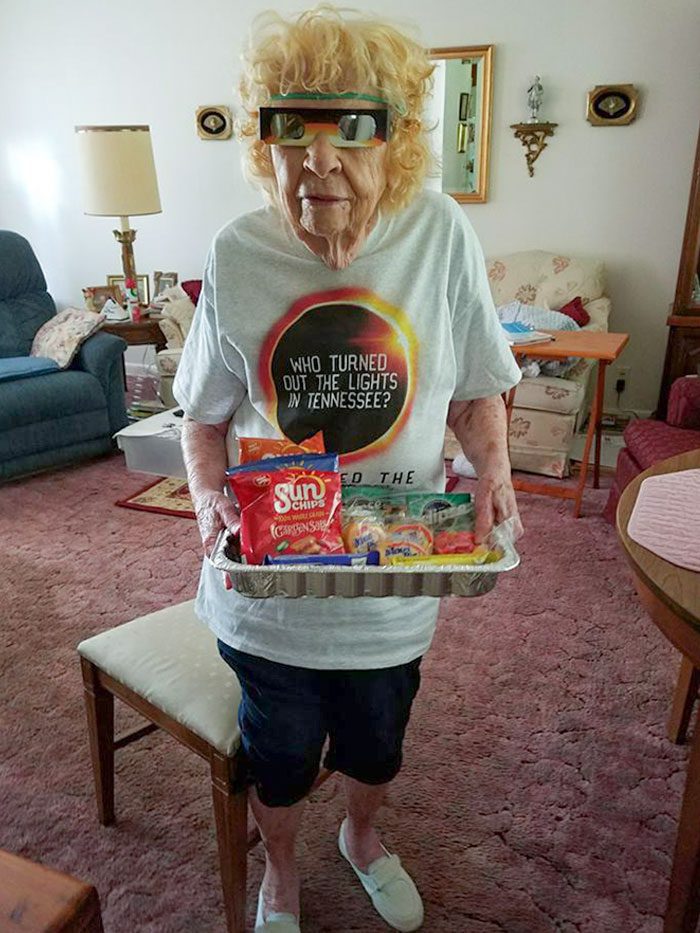 She not only wore essential eye gear but was also armed with a bag of SunChips, Moon Pies, Eclipse Gum, and other fun food items. Also, it's hard to miss the trendy quote on her t-shirt, "Who Turned Out the Lights in Tennessee?" So on theme!
First Selfie!
Who says that only the younger generation knows how to click the best selfies? This elderly aunt, who received her first-ever smartphone for Christmas, proved she had a strong selfie game as she peered down at the camera for a lovely picture.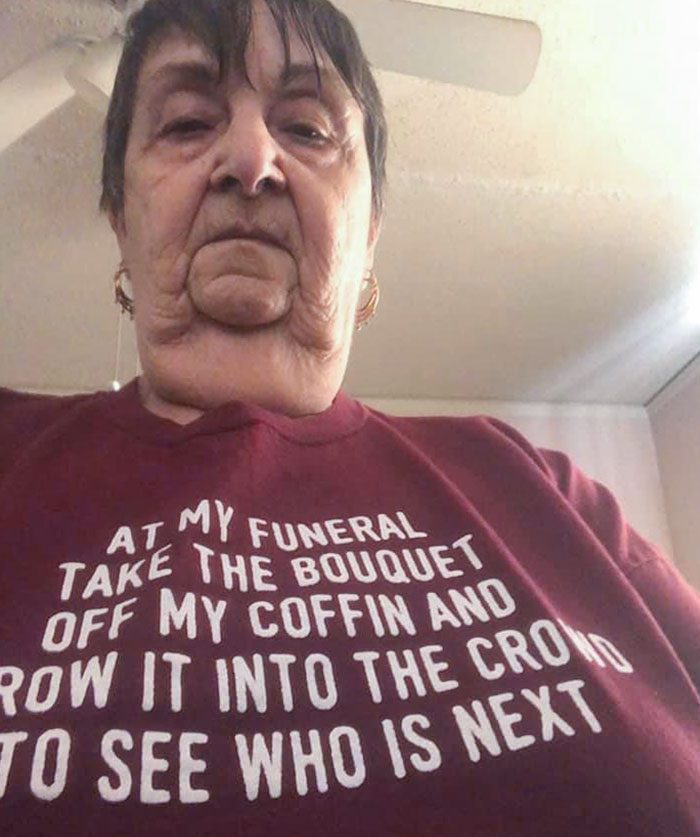 The older woman looks so wholesome as she memorializes this undoubtedly memorable moment. What's even more hilarious is her t-shirt's slogan, "At my funeral, take the bouquet off my coffin and throw it into the crowd to see who is next." She is truly an icon!
Golden Thronie!
If there is one character everyone unanimously loved about the superhit show Game of Thrones, it was "Olenna Tyrell." As an elderly yet worldly character in the TV show, she won the hearts of young and old viewers alike. No wonder this lady absolutely stole our hearts!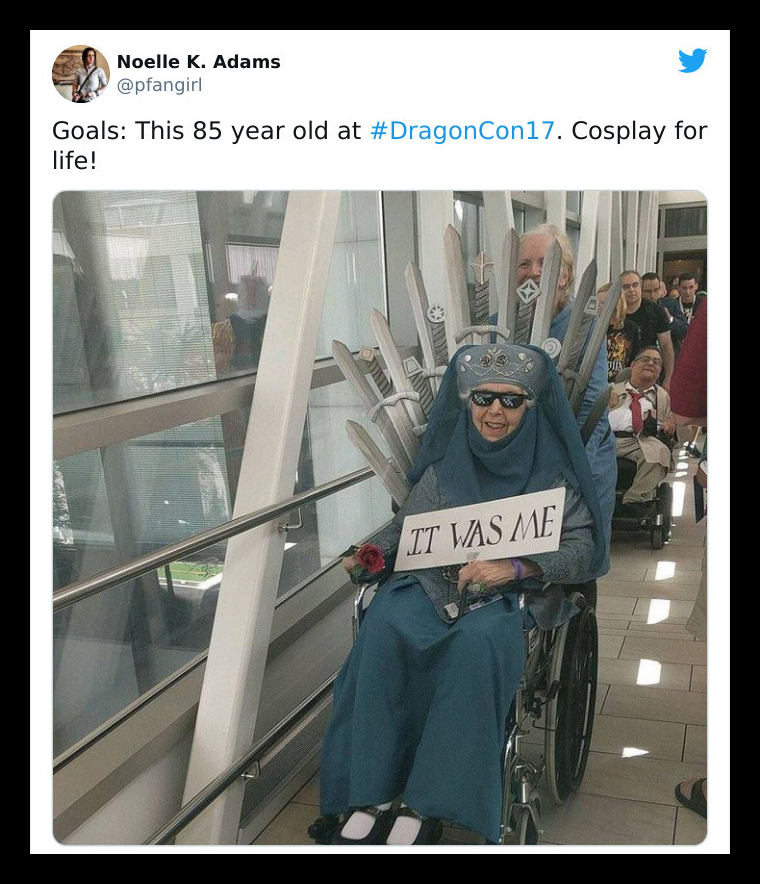 Snapped at DragonCon17, a famous pop culture event, the 85-year-old bore a stark resemblance to the fiery character in her pale blue long dress and pillbox hat. She also carried around a placard that proudly displayed one of "Olenna's" most famous lines.
Cartoon Network Fans
Fan conventions like Comic-Con are for people of every age, and this photo of a lovely old couple proves just that. For one of the events, this husband and wife dressed up as characters from the popular animated series Courage the Cowardly Dog.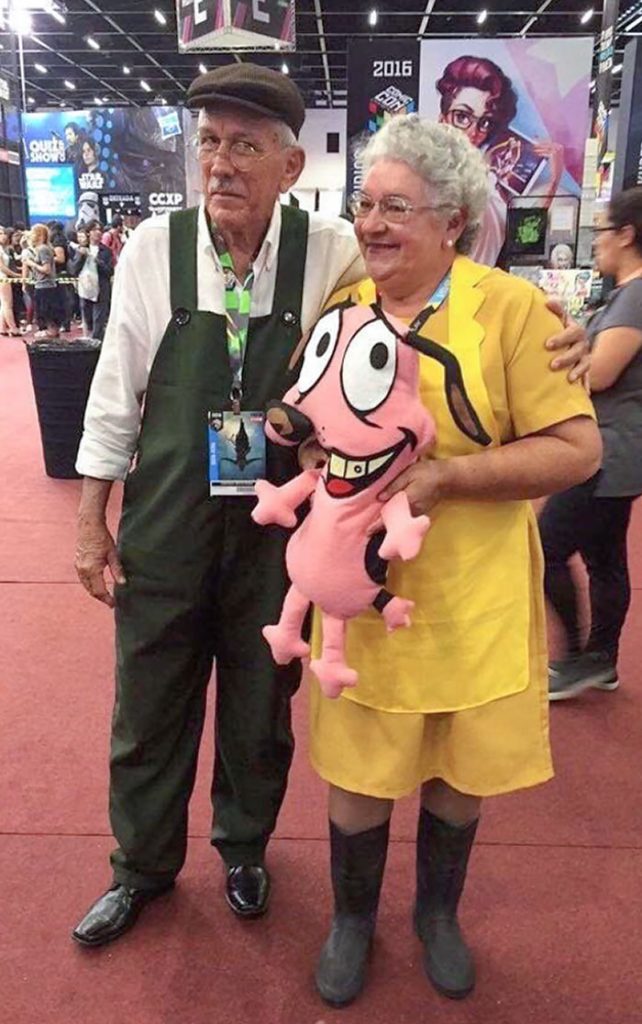 The show's fans will have no trouble comprehending the fact that these awesome fans were cosplaying "Eustace" and "Muriel." They also carried around a stuffed toy of "Courage," the dog, to make a more realistic and lasting impression on everyone.
Fiesty Ninja!
This 80-year-old woman has yet again proved that age is just a number when it comes to letting loose and having fun. For an event, she dressed up as a character from Teenage Mutant Ninja Turtles and won the hearts of thousands of people.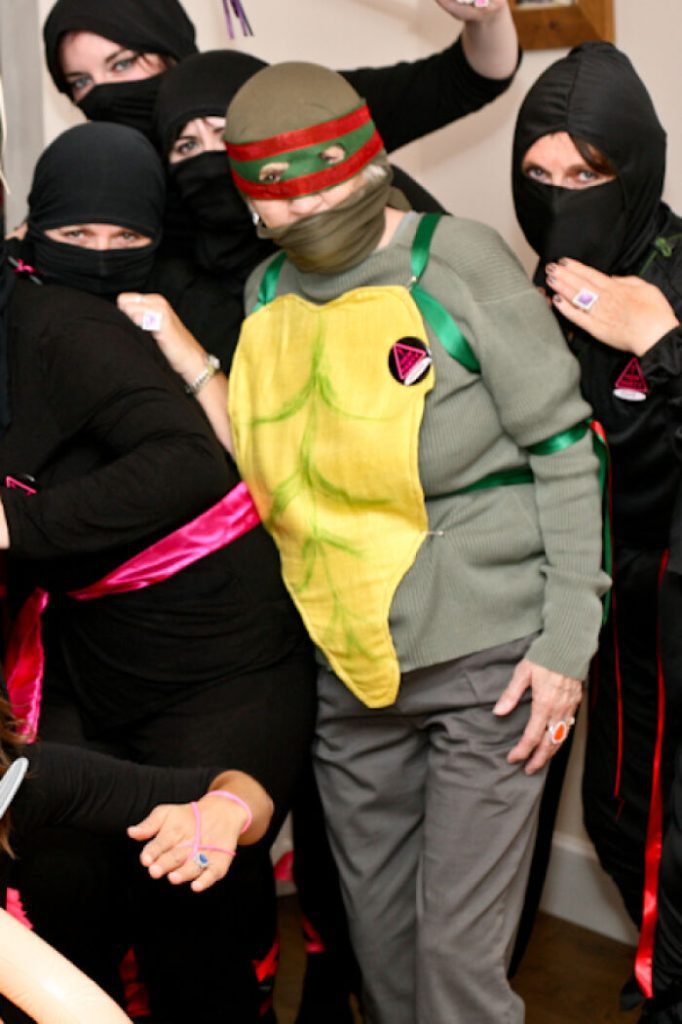 She looks so adorable and cool in this picture, surrounded by a bunch of other people dressed as badass ninjas. This cool lady is truly an inspiration to those who stop themselves from doing amusing things because of old age.
96-Year-Old Lives a Vivacious Life Amidst Her Flowers and Garden
Maintaining a healthy lifestyle will definitely ensure that you are fit and lively, even at a much older age. Just take a look at this beautiful 96-year-old grandma who refuses to rely on a cane or wheelchair for her day-to-day activities.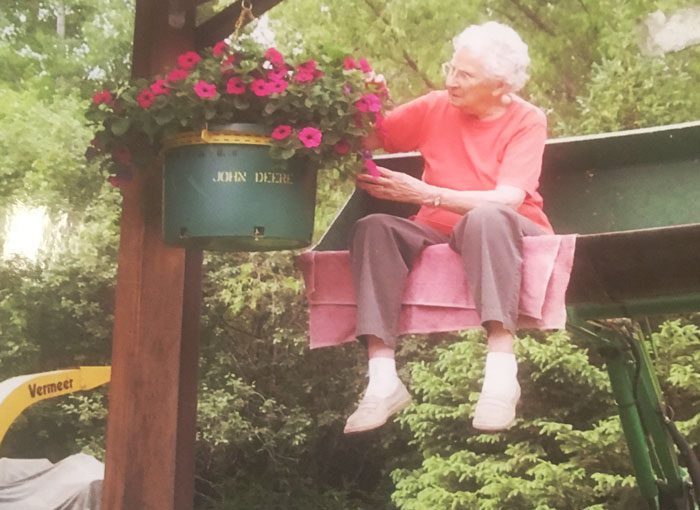 She sits atop a tractor as she tends to her flowers and lovely garden. Her love for her garden and flowers is truly inspiring. The only question remains, how did she get there?! That said, she proves that enjoying the little things can be immensely satisfying.
American Rocket Man
If you think Halloween is just an event for kids to dress up and go trick-or-treating, think again because this 76-year-old grandpa is proving everyone wrong. He demonstrated that this spooky holiday can be fun for everyone, regardless of age!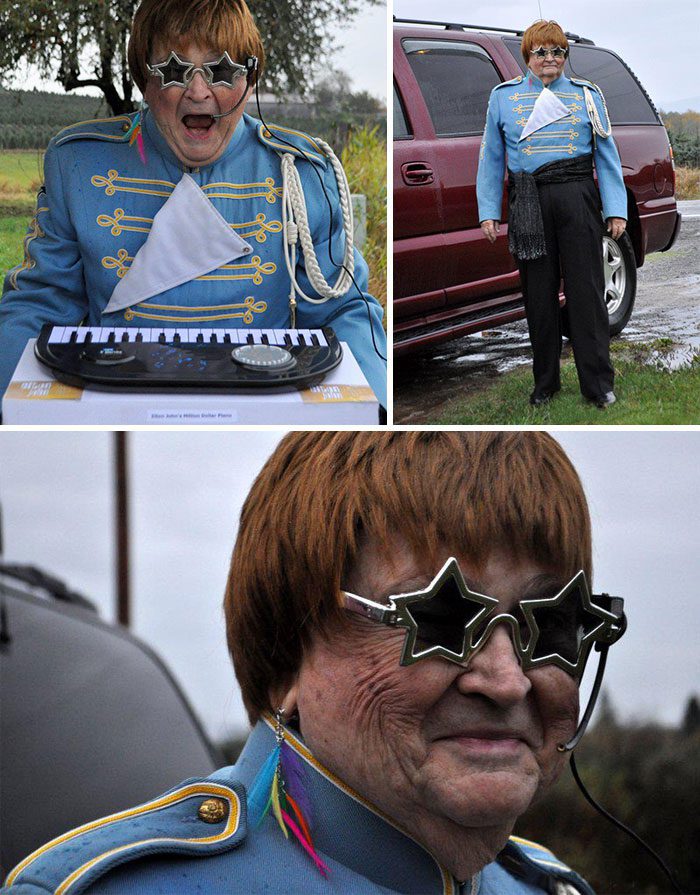 And what better way to channel your happy-go-lucky self than dressing up as the legendary singer Elton John? The man donned a pair of flashy star glasses, made popular by the famed singer, and even put on a bit of rouge for the occasion!
Classy Stunners For The Birthday Boy!
All people, irrespective of age, deserve to have a good time on birthdays, and this lovely grandfather in the picture below wants you to do the same. On his special day, he adorned himself with flashy glasses announcing his 90th birthday.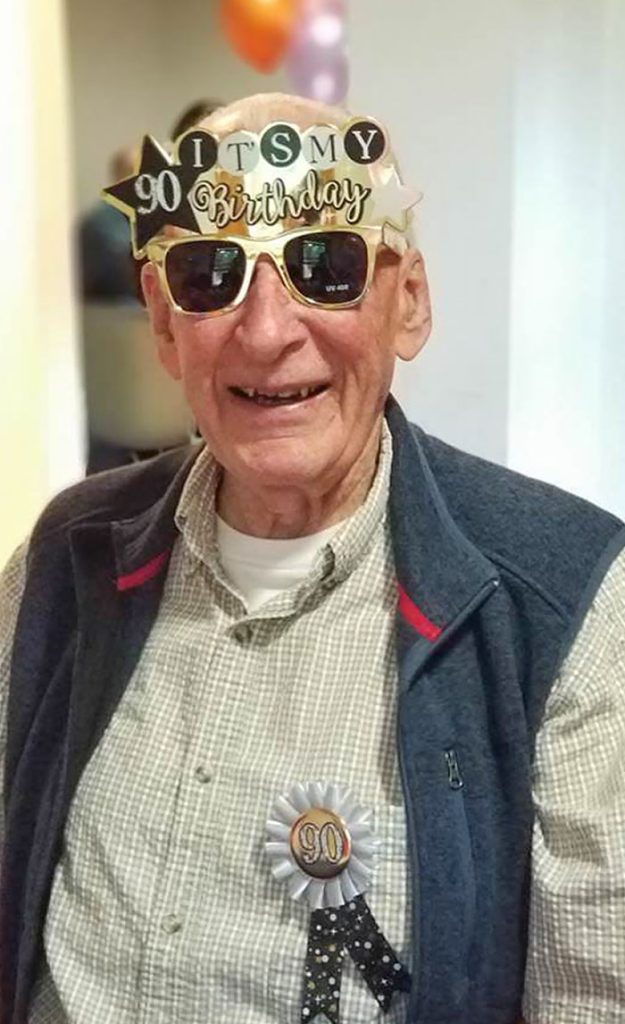 Additionally, he also sported a badge with the number "90" inscribed on it, proving that he was still young at heart. Lastly, he wore a cute smile for the camera, moved by all the love and affection his family members showered on him.
Daring Adventures With Grandkids
There is nothing more special and wholesome than the bond between a grandparent and a grandchild, as seen in this precious photo. This 83-year-old grandpa refused to let his old age stand in the way of having fun as he went on skydiving with his beautiful granddaughter.
In the photo, both of them stare at each other affectionately as they bask in the amazing high of a wonderful adventure. If you also want to do something fun and spontaneous with your grandparents, the time is now. You will definitely cherish those moments forever!
Biker At Heart
A netizen took to social media to share a picture of their grandmother sitting atop a bike after they both went for a ride. The user also posted another photo from 59 years ago wherein their young grandma rode on a Royal Enfield and striked a bold pose.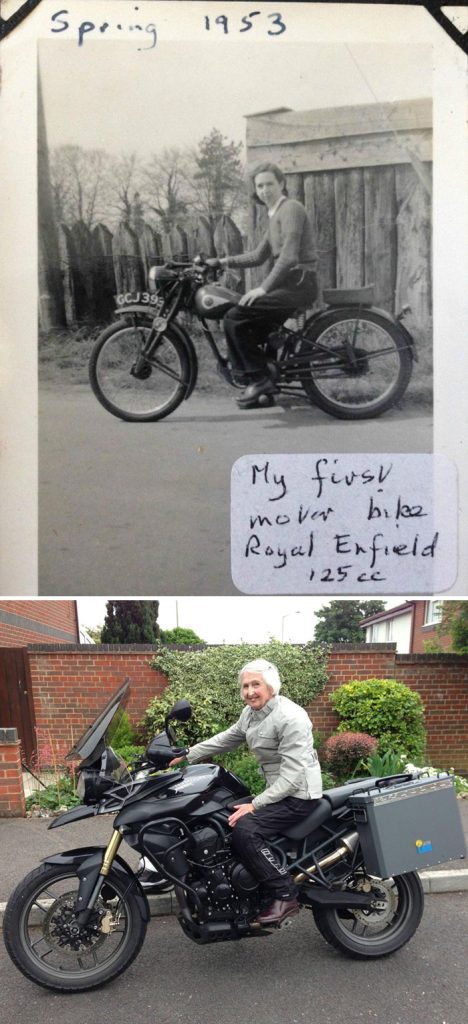 Many things may have happened within those six decades, but this woman's love for bike rides has stayed the same. These pictures serve as a great reminder for people who stop doing fun things after reaching a certain age because they fear the opinions of others.
Pokémon Is Fun For Everyone
Just when you thought these seniors couldn't get cooler, you're hit by a gamer. Games like Pokémon Cards are clearly not just meant to be enjoyed by kids. In this photo, the boy is clearly caught by surprise at how good his grandpa is at playing the game.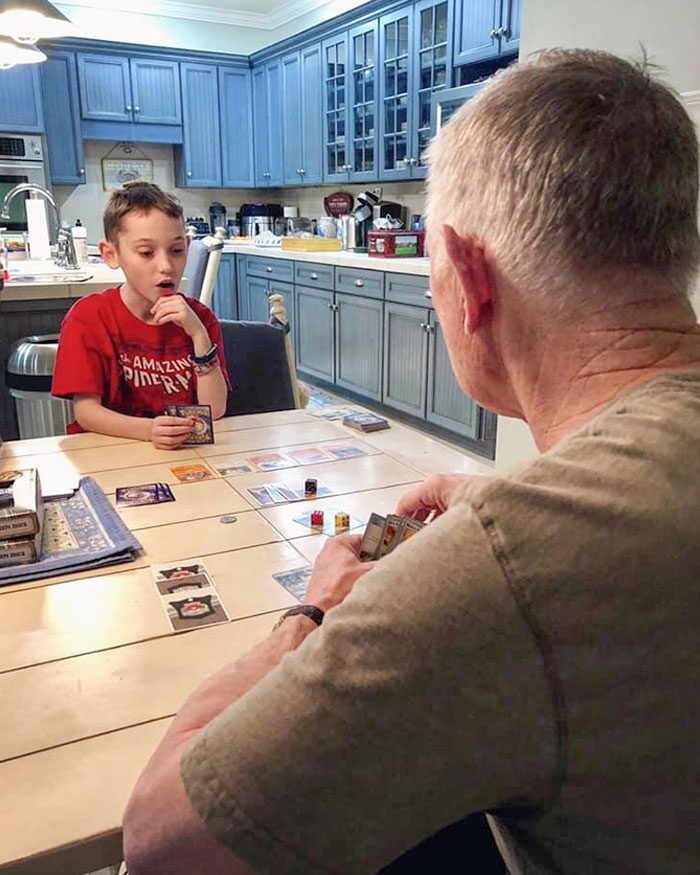 Typically, grandparents and their young grandchildren share a beautiful friendship, and doing fun activities together, like playing games, deepens this bond and creates priceless memories. So, spend time with your grandparents and make amazing memories to cherish throughout your life.
Hanging Out In The Subway
How often have you wanted to do something you thought would be fun but stopped yourself because people were staring? Many times, right? Well, take inspiration from this older man, proving naysayers wrong by hilariously hanging on to a vertical pole and living in the moment.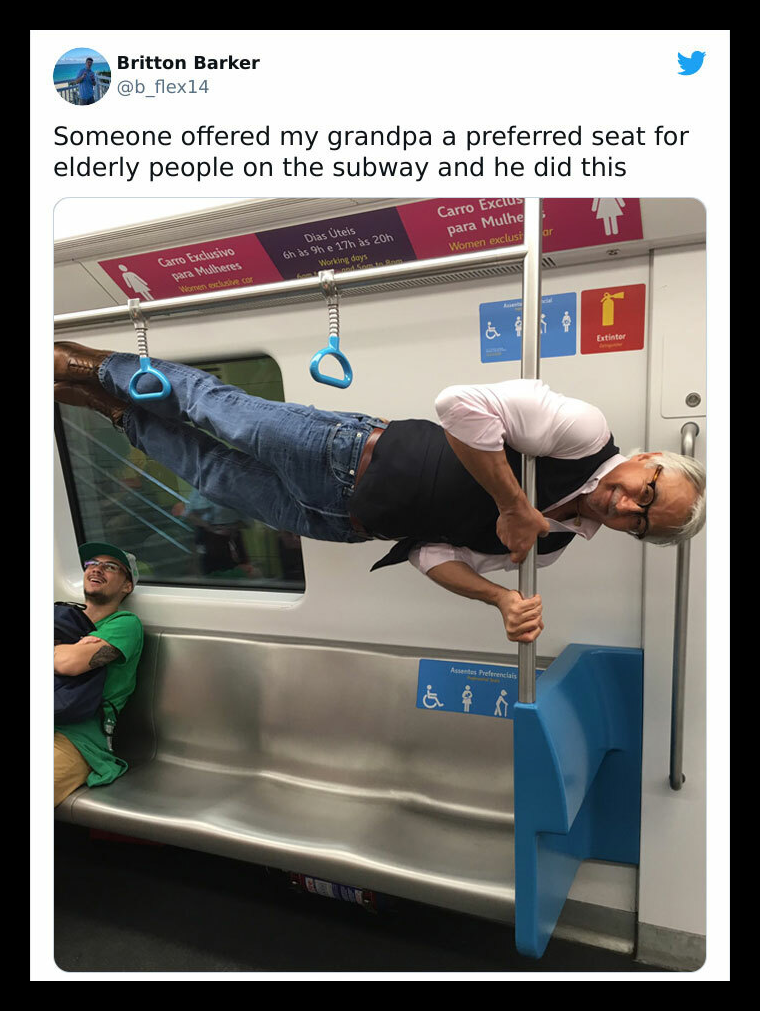 He refused to take up the seat offered to him in the subway and decided to show off his amazing physical skills instead. Likewise, don't hold on to yourself and continue working on your health to pull off such astonishing feats even when you're old!
Another Gamer
If you believe you have mastered the popular Pokémon Go game, think again! The two old maestros in this photo proudly showed off their hard-won adventures after reaching Level 37 of the game. And it seems that they have no plans of stopping.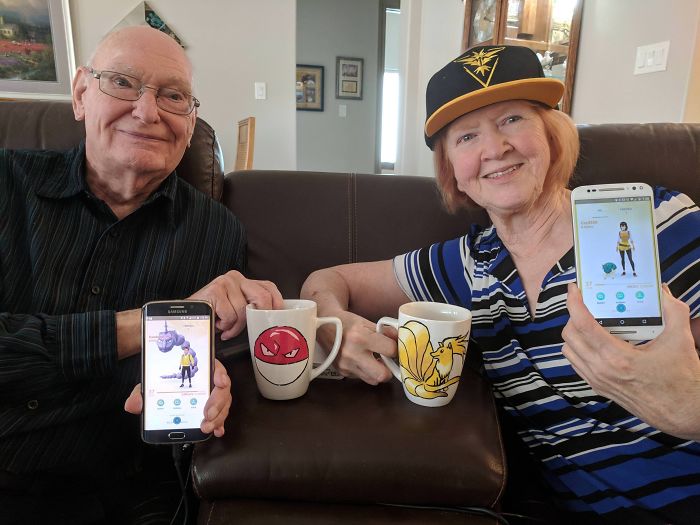 The fact that both of them are holding Pokémon-inspired coffee mugs makes this picture even more adorable. Nowadays, mobile or video games aren't just reserved for the youth. Seniors are not only playing them but also presenting tough competition to their younger counterparts.
VR For The Win
Modern-day technological advancements are successfully bringing people closer to their aged family members, and this picture proves that. Thanks to virtual reality, older people can recall their childhood days and share them with their grandkids while spending time together.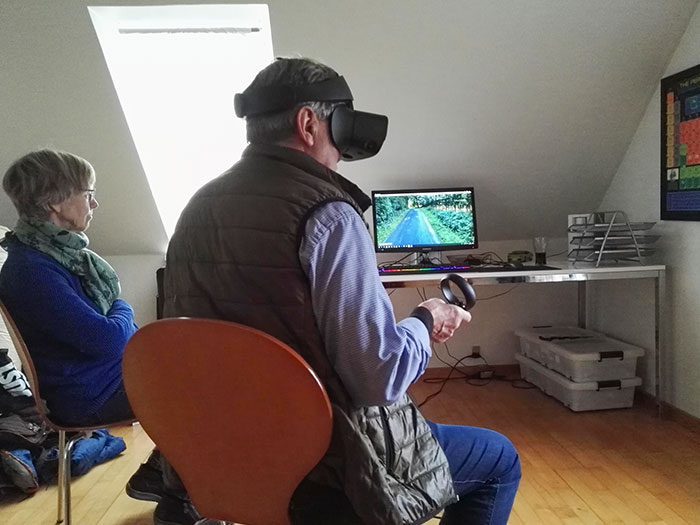 Google Earth VR helped this lovely granddad virtually revisit his childhood home. Reminiscing those past days, he proudly told his grandchildren stories about the adjacent buildings and areas that were close to his old house. The sheer power of modern technology is amazing!
Trying Out The BMX Bike
Modern-day inventions are so incredible that they equally fascinate young and old generations. A great example of this fact is the viral photo below of a 90-year-old jolly grandpa trying his hand at a BMX bike. The expression of joy on his face is a memorable one.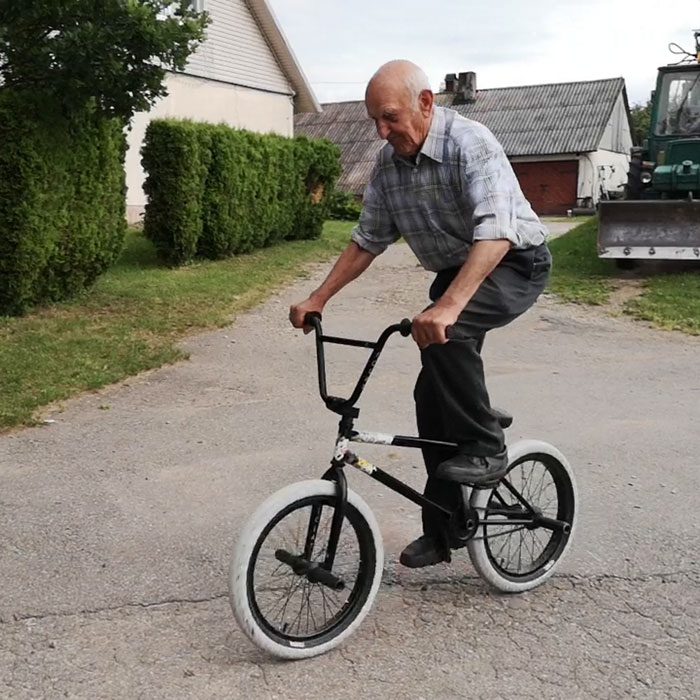 A netizen shared this photo on Instagram, mentioning how his girlfriend's grandfather was psyched to try out the popular BMX bike. We think this perfectly shows that we should always cherish the little experiences in our lives, no matter our age.
Grandma's Sleek Ride
Just because you are slightly older doesn't mean that your best days and adventures are behind you. The woman in this picture is truly an inspiration to everyone as she rides around in her stylish, sleek car. Her sassy nameplate also took everyone by pleasant surprise.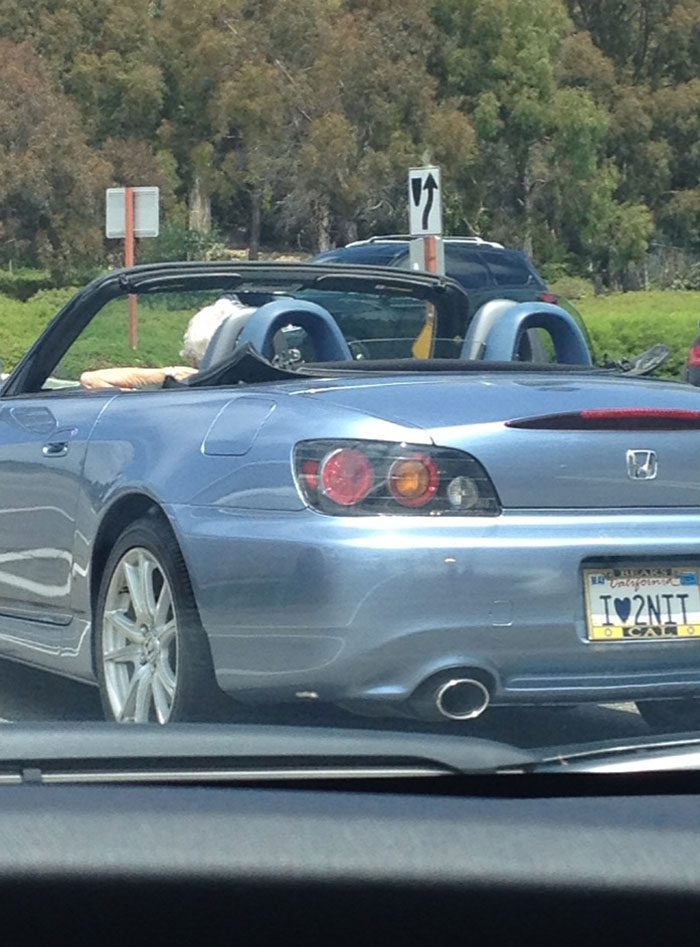 This young-at-heart grandma is a fantastic example of the famous saying, "You only live once." So, if you wish to invest in a cool car or outfit for yourself, don't let the opinions of a few killjoys stop you. Live your life to the fullest!
Cheeky Grandpa
Despite his age, this lovely grandpa isn't ready to give up on fun and loves being a prankster. He boasts an unusually significant collection of books wrapped in black duct tape, and the reason behind it will blow you away.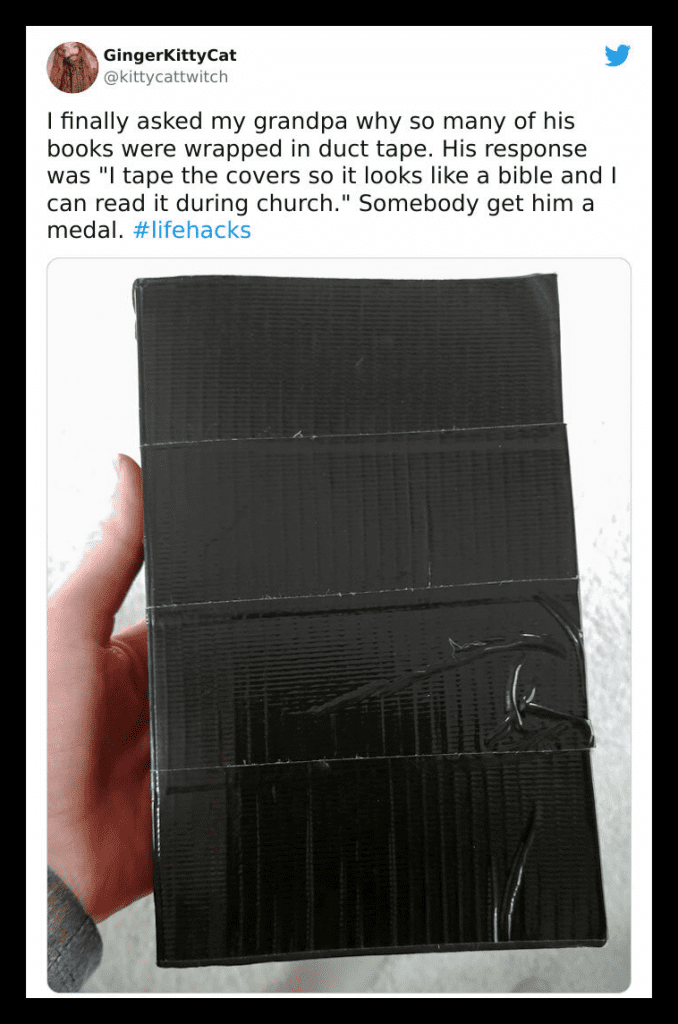 When asked about his weird collection, the man revealed that he covered them all with black tape so that whenever he went to church, everyone would think he was reading the Bible! His fantastic life hack incited laughs across the internet, and now people are copying his ingenious idea.
Still Radiant At 100
If you think people stop looking good after a certain age and start depending on countless beauty regimes to look pretty, you clearly don't know what you're talking about. This 100-year-old grandma is glowing proof of the fact that beauty is a state of mind.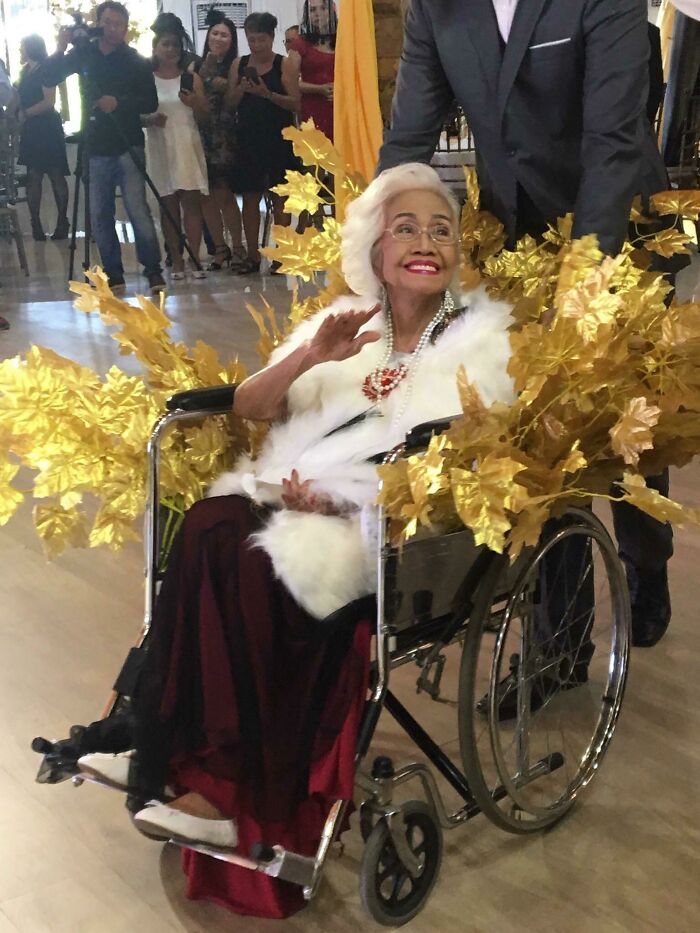 In her case, the good looks aren't a result of anti-aging creams but her positive outlook on life. She looks striking in a white fur coat and maroon gown as she fondly smiles at all the people who love and adore her.
A Costume That Stole The Show
The 75-year-old grandmother in the photo below not only made this fantastic costume herself but also wore it to a '70s-inspired party at Bingo Hall. Paired with large earrings, a long necklace, black boots, and a bowler hat, she looked decades younger.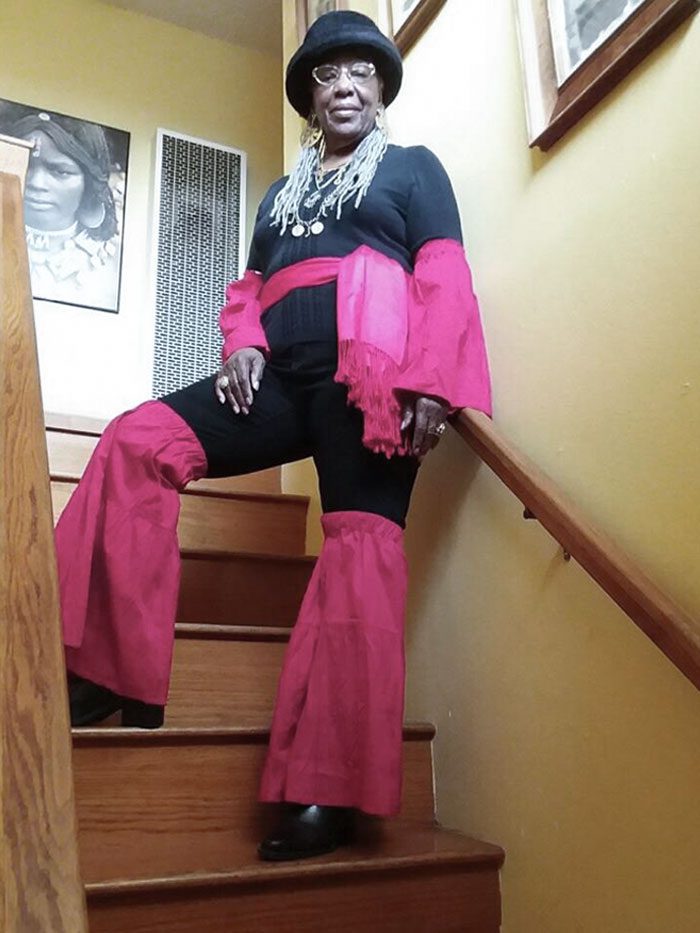 She is a lovely sight to behold in her pink and black ensemble. While she may have won 2nd place at Bingo Hall, she also won the hearts of many people across the internet with her vibrant and fun-loving attitude, not to mention her design skills!
An Elderly Clark Kent Spotted At A Wine Festival
This picture of an older man wearing a Superman outfit underneath a police uniform has taken the internet by storm, and rightfully so! While "Clark Kent's" choice of disguise is usually a pair of simple glasses, this elderly "Superman" opted to go with a police uniform instead.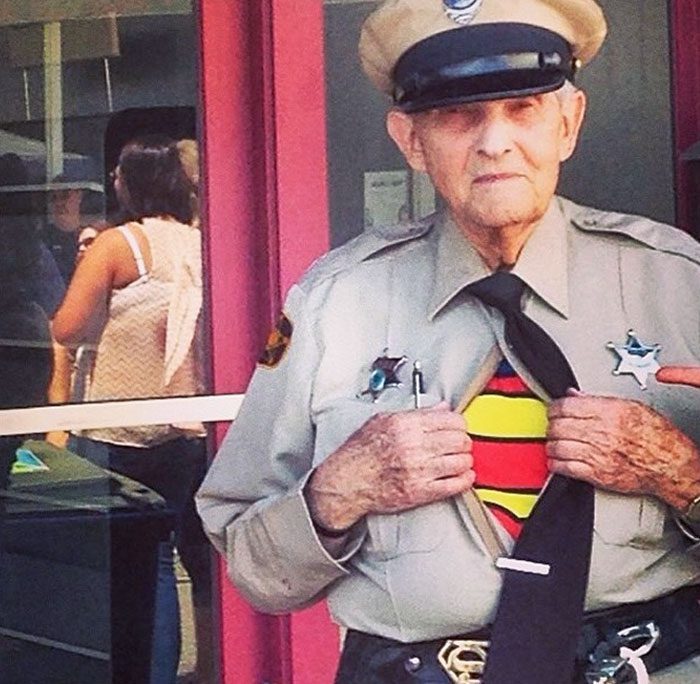 Sporting a belt with the Superman logo and smiling at the camera, he is living proof that you need not get over comic books or superheroes as you grow older. Strive to enjoy what brings you joy to live a more fulfilling life.
Grandma is a Pro at Wii Fit
This beautiful grandmother has been an absolute pro at the video game Wii Fit for over a decade and has no plans to give up anytime soon. It is no wonder she looks so radiant and active even in her old age.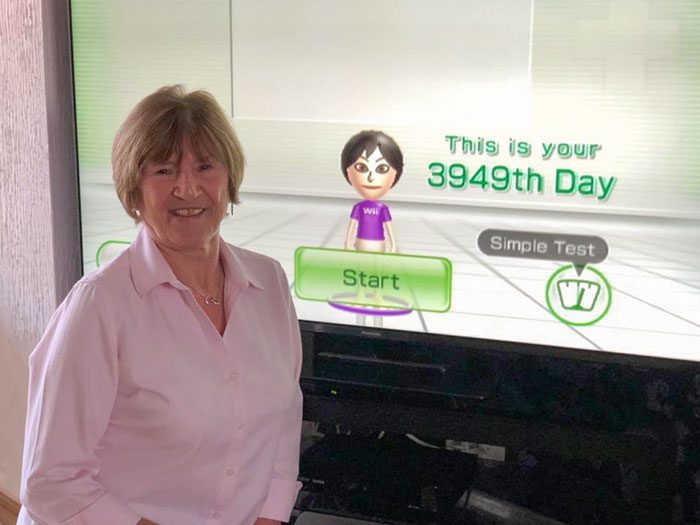 In fact, people half her age do not boast such great levels of commitment or willpower. So, if you wish to look as carefree and lively as her at an older age, take a page out of her book and start living a more active lifestyle.
Turning 100 In Style
A lot of us dread getting older, fearing that we will not be able to have as much fun as we age. But this fantastic picture of a 100-year-old lady proves that you just need to accept your life's beauty at every stage to retain your spirit and have a good time.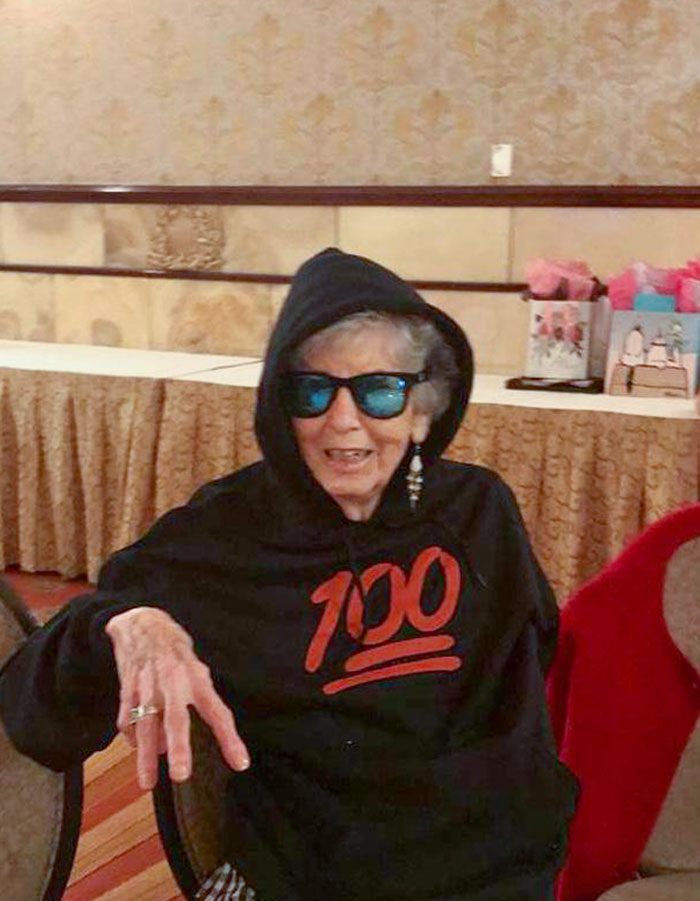 She ushered in her 100th birthday in style, dressing up in a sleek, black hoodie with the popular "100" emoji at the front. Her black and blue shades and unique jewelry further amplified her coolness quotient as she struck a hip pose for the camera.
Channeling A Millenial
Who said grandparents have to dress up in dull colors when they can look so effortlessly cool in trendy outfits? A month before turning 94, this granny looked 10 to 15 years younger in her floral shirt, cool hat, and fun accessories!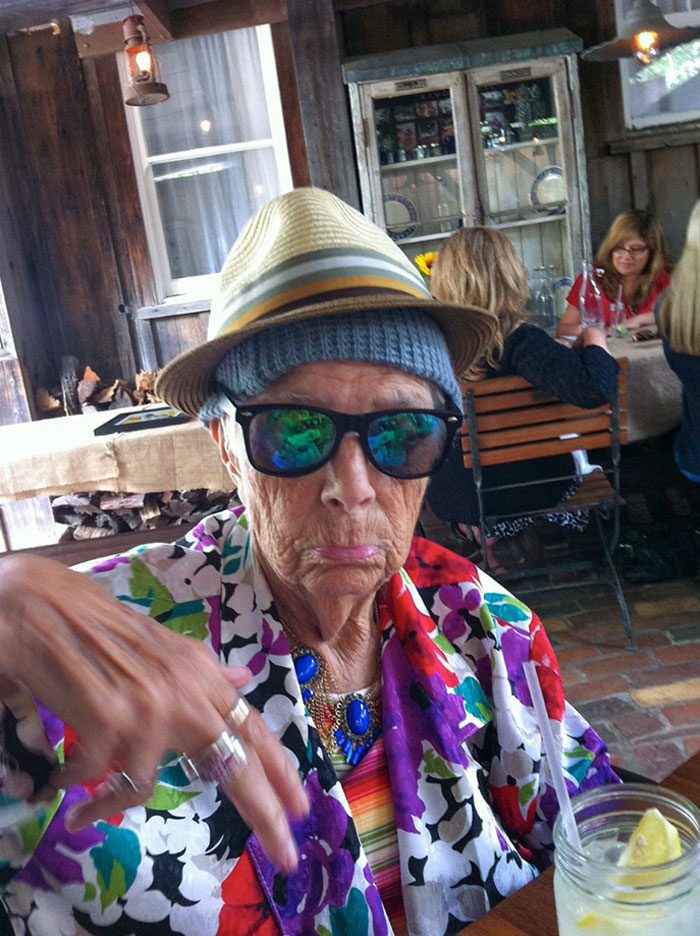 Even her black and blue goggles gave off such cool vibes. Instead of smiling pleasantly at the camera, she opted to pout and make a funky hand gesture. We have no doubt in our minds that she's an absolute joy to be around!
Flex Those Muscles!
This person was rightfully surprised when they discovered their grandma had been lifting weights during the lockdown period. So, they decided to bless the internet with a picture of her, and people seemed to love it! Can your arms even do this?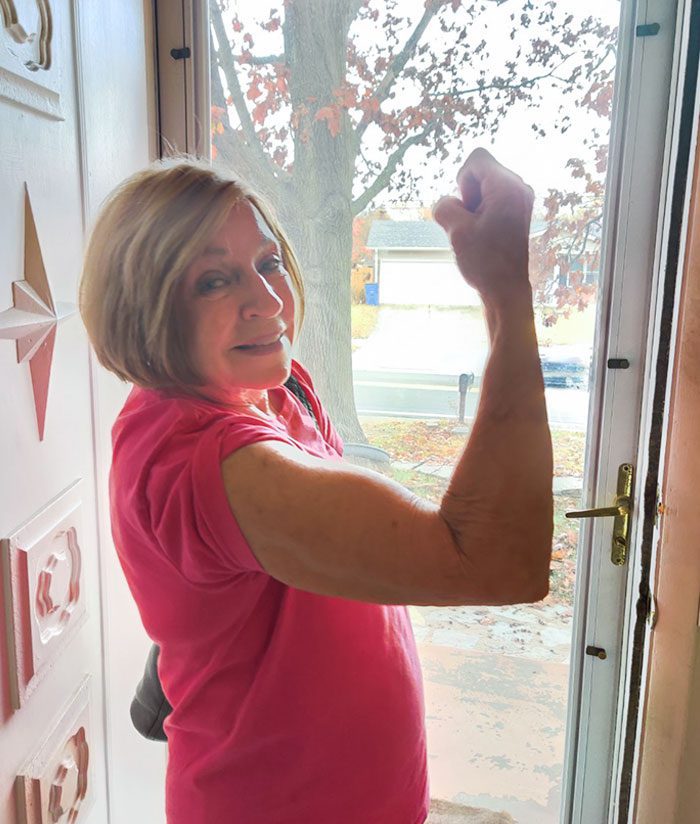 Not looking a day over 60, she proudly flexed her strong arm muscles for the camera. Even though she was set to turn 85 within a week, this picture proved that regular exercise can not only help you stay fit but is also the best way to look and feel young.
Another Eclipse Fan
This photo of an 82-year-old grandfather sitting comfortably on a chair and enjoying the eclipse has the internet in splits. An eclipse is an incredible astronomical event to witness, and he was all equipped to have a good viewing experience.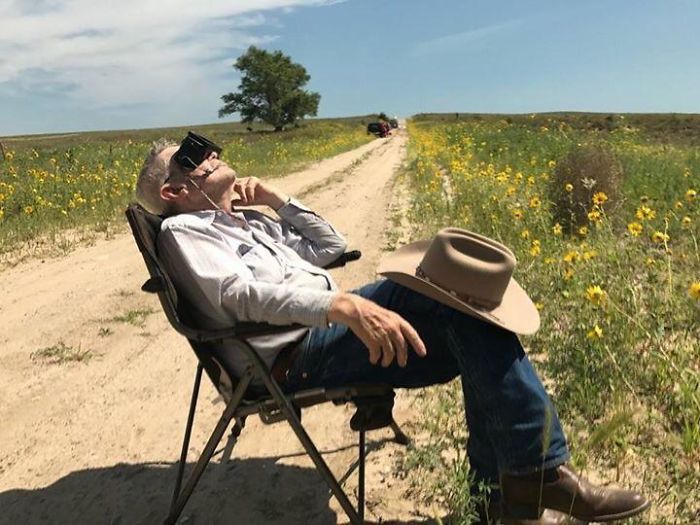 Seated comfortably on a chair in the middle of an old dirt road, he donned a pair of protective eyewear to get the best view. Despite being in his 80s and seeing countless amazing things in his lifetime, he still boasts more curiosity than most of us.
Legendary Sky Jump
Jumping off the stratosphere is an extremely adventurous activity and is not for the faint-hearted. Even active youngsters opt out of this sport owing to their inhibitions, but this 92-year-old man seems way livelier and strong-willed than most people half his age.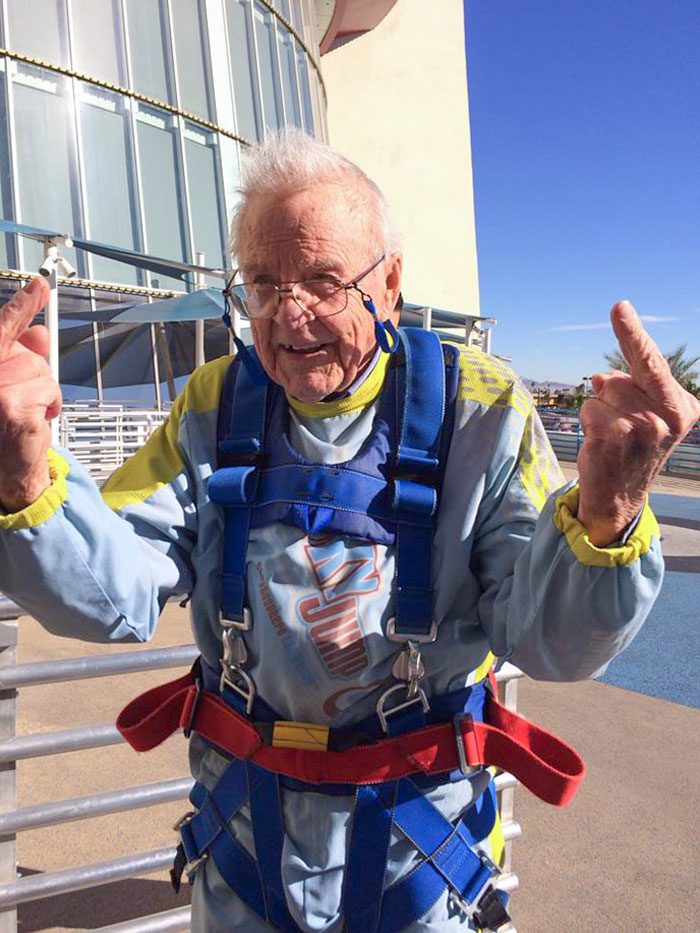 He may be in his 90s, but he's truly the epitome of coolness in his protective gear right before jumping off the stratosphere in Las Vegas. To express the joy of his life's most daring achievement, he flipped the bird at the camera!
105-Year-Old Poses on a Bike for Her Birthday
A netizen posted a picture of their great-great-grandaunt posing on a bike on her 105th birthday. After seeing this post, some people simply lost their calm. The way this older woman wore a flashy ensemble and posed like a pro biker was truly enviable.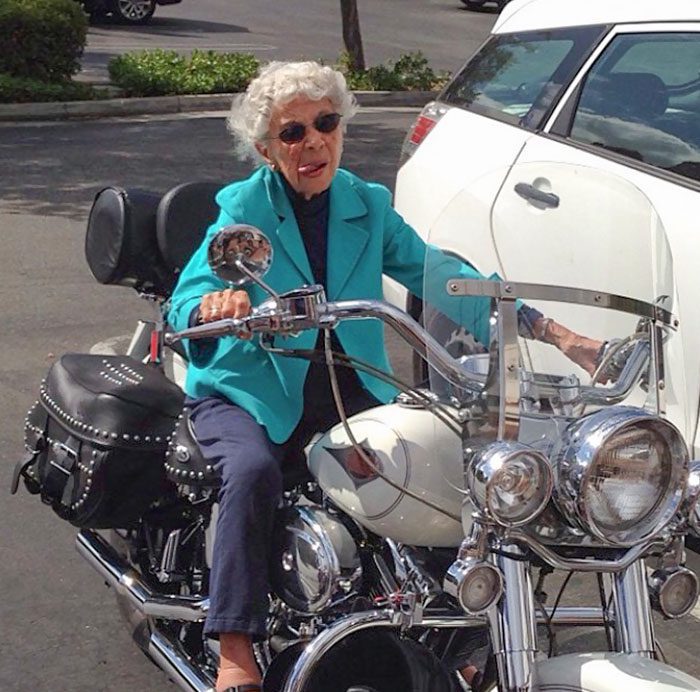 Not looking a day older than 70, she proves that having a fun and positive attitude is the key to staying happy and healthy in your old age. What's even more entertaining is the quirky expression on her face as she sticks her tongue out for the camera.
You Are Never Too Old for a Tattoo
Cynics often try to discourage others from getting inked, saying that the tattoos will fade and look ugly with age. However, this 83-year-old woman refused to let them get to her as she happily got her first tattoo at such an old age.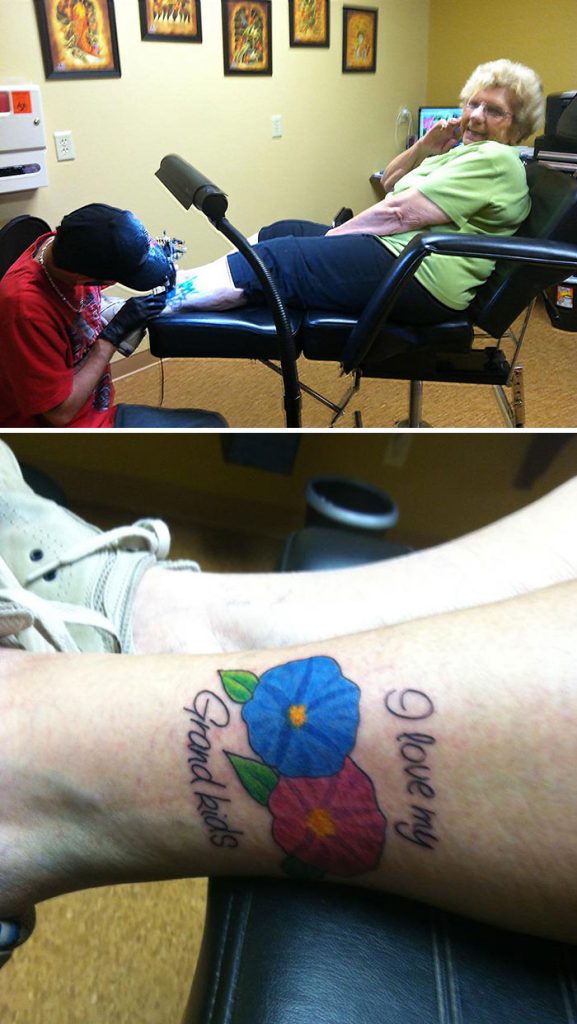 In the photo, she looks extremely happy and excited about getting inked. What's more wholesome is the fact that her new tattoo is dedicated to her young grandchildren. If you've been postponing getting one, consider this your sign to finally do it!
Of Grandmas And Pythons
A python can easily scare the living daylights out of the bravest person, but not this 78-year-old woman. Even though she is almost 80, she seems to have had the best time of her life during her 14-day-long vacation in Cambodia.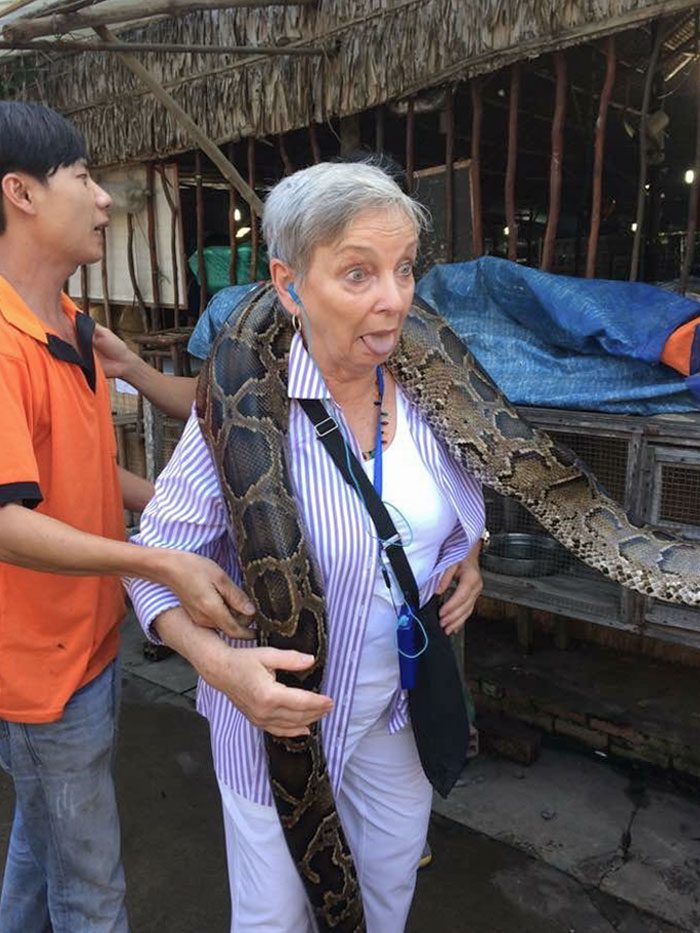 The lady handles the presence of the python around her neck quite well. She even made a cheeky expression for a picture. As this lively woman refuses to let her old age bring her down, you should also explore the things you've always wanted to do.
A Cute Yet Effective Way to Chop Onions
Onions may add that extra zing of flavor to your dishes, but cutting them can be an unnecessary hassle. If you hate chopping them as much as the rest of the world, this adorable lady has the perfect and most effective solution!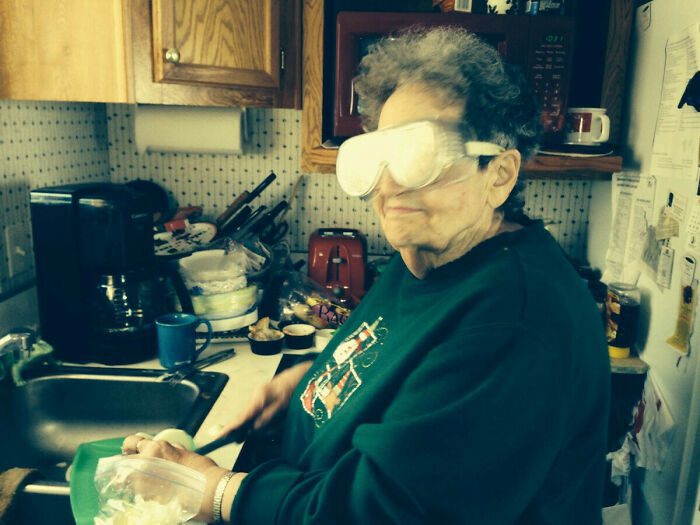 She wears a pair of swimming goggles to prevent her eyes from tearing up due to the irritants produced by onions. So, if you also want to chop onions like a pro, buy a pair of swimming goggles and try out this genius life hack. Just be careful not to slice your fingers!
Playing Around With VR
While virtual reality is relatively modern technology, this picture is solid proof that people of all ages can have a great time with it. After all, who said only the younger generations can enjoy playing a new, interactive VR game?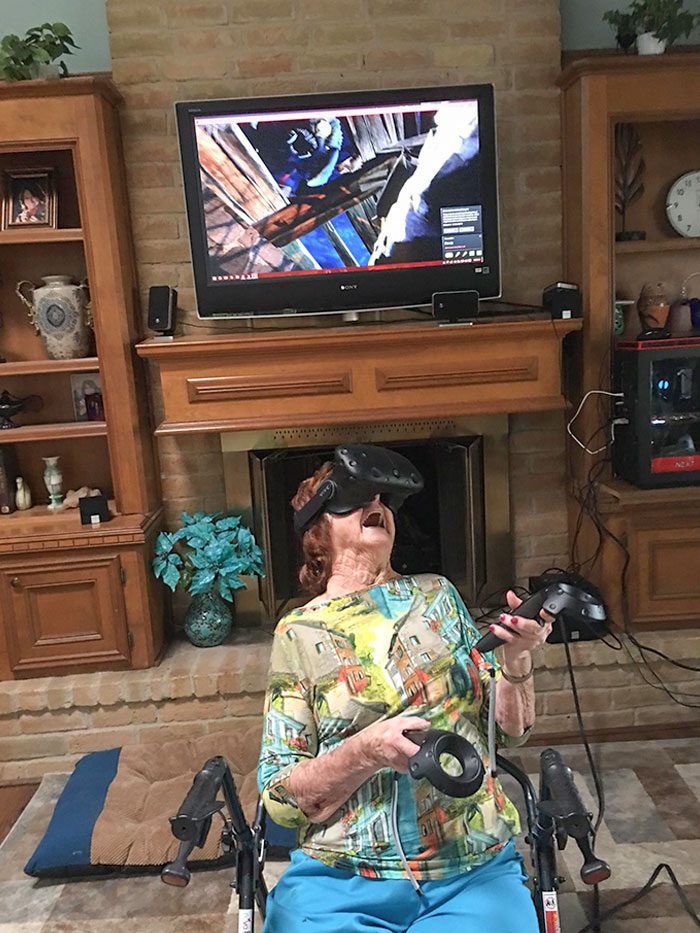 In this photo, a 96-year-old grandma seems to be having immense fun as she fiddles with the VR controller and plays an entertaining game. She sports a happy expression, which implies that she is having a crazy good time playing.
Trick-or-Treating With Grandparents
Trick-or-treating is a traditional Halloween custom for adults and kids to have fun. But most people dismiss this practice as only for children. Thankfully, this picture serves as solid evidence that grownups can also enjoy Halloween and go trick-or-treat with their grandchildren.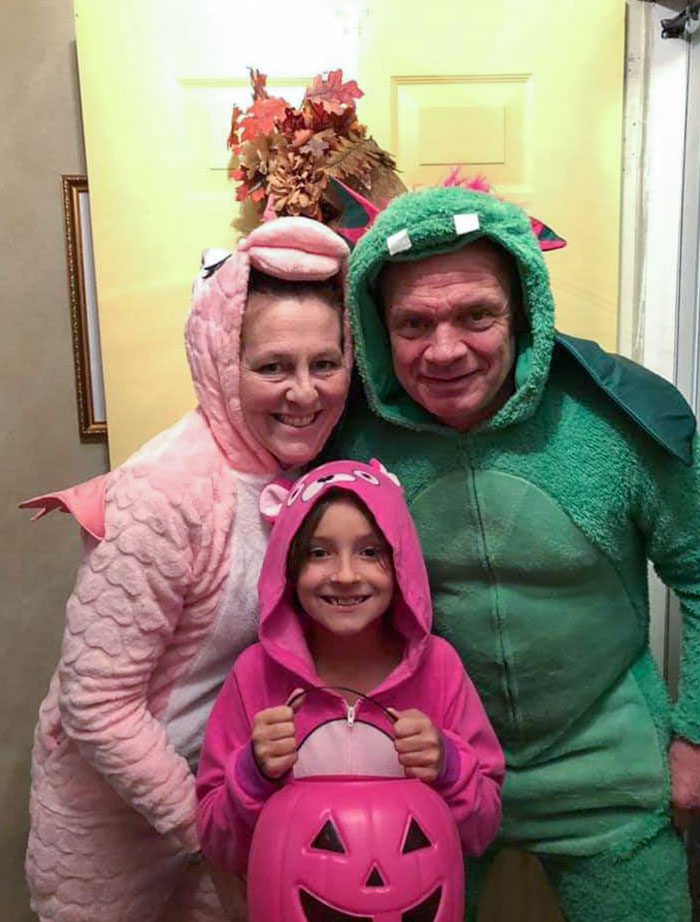 The grandmother decked a cute pink ensemble while her husband wore a green one as they accompanied their granddaughter on her candy-filled adventures. The deep love the little girl shares with her extremely cool grandparents is palpable in the picture.